Packing snack packs for school doesn't have to be a tedious process. Here is an extensive list of our favorite ready-to-eat, but good for you, Organic, whole food snacks that you can pack in a jiffy!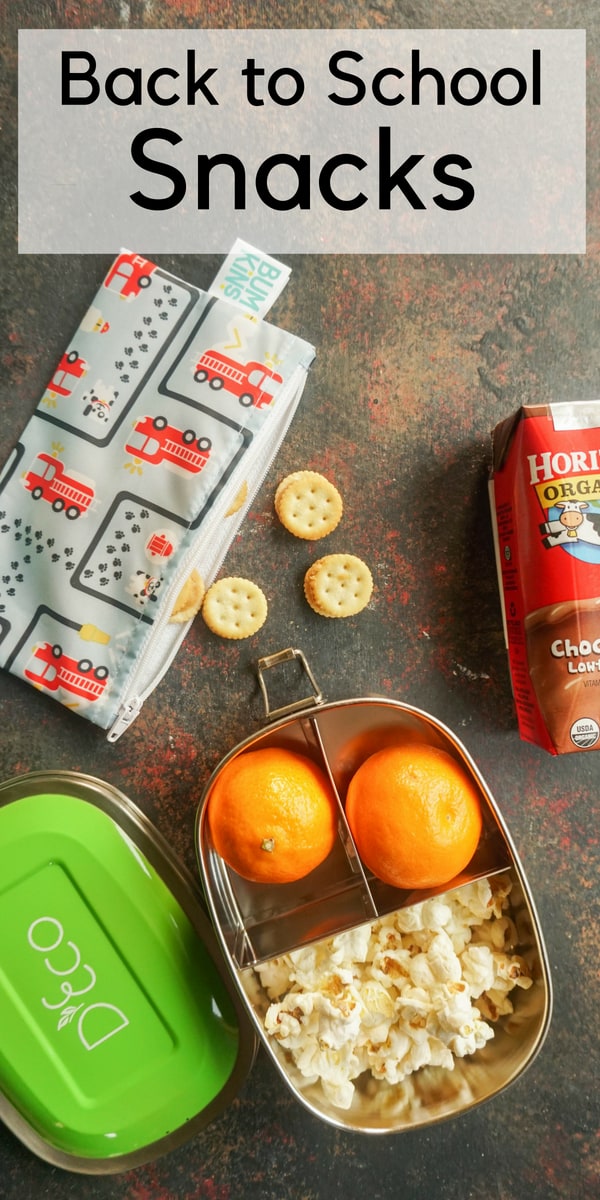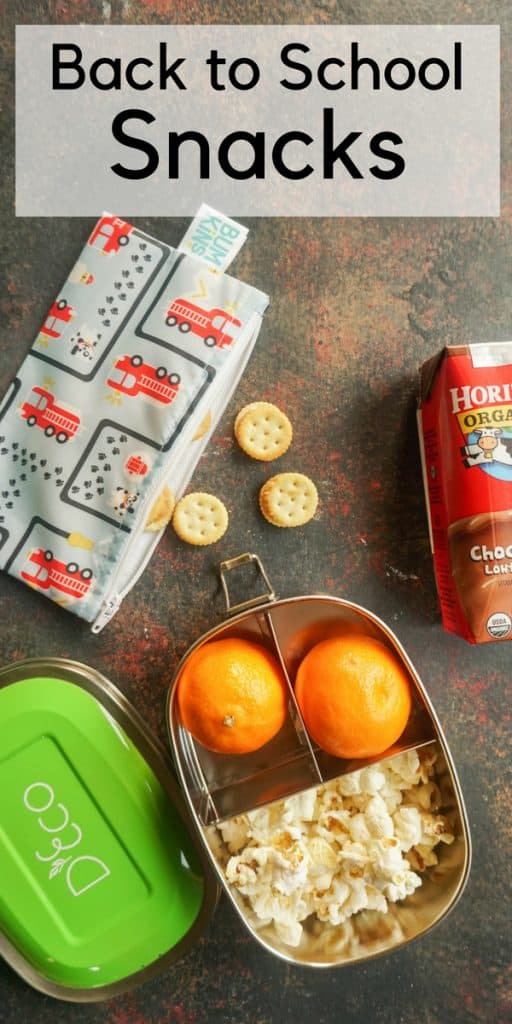 Its back to school time, which means, its time for lunch boxes and snack packs to be packed - all ready to be taken to school.
Snack packing doesn't necessarily have to be an ever time consuming chore with the constant battle of whether the snack you are packing is good enough for your kids or not. All you need is a little bit of planning and of course, make use of every little help you can get out there from the universe.
I have put together a list of our favorite snacks, in single serve, ready to go packs, most of which are Organic and whole food snack made with real ingredients, so the worry part of what your kids are eating is not there. Also, all these are delicious too, so you don't have to worry about whether your kids will eat it or not.
And plus, I have linked them all to Amazon.com, where you can easily buy them and if you are a Prime member, most of them can be put on your Subscribe and Save list, so not only do you save some extra $$ but also you don't have to ever have the fear of running out of snacks for the next day, anymore.
(This is not sponsored by Amazon, but the links are affiliate links, which means I get a small commission when you click through these links and buy from Amazon, but they are at no extra cost to you!)
So, here you go, our favorite Back to School Snacks to make snack packing easier.
School Snack Packs - Crackers and Dips
A favorite, especially among the younger ones, because, who doesn't love to dip and eat right?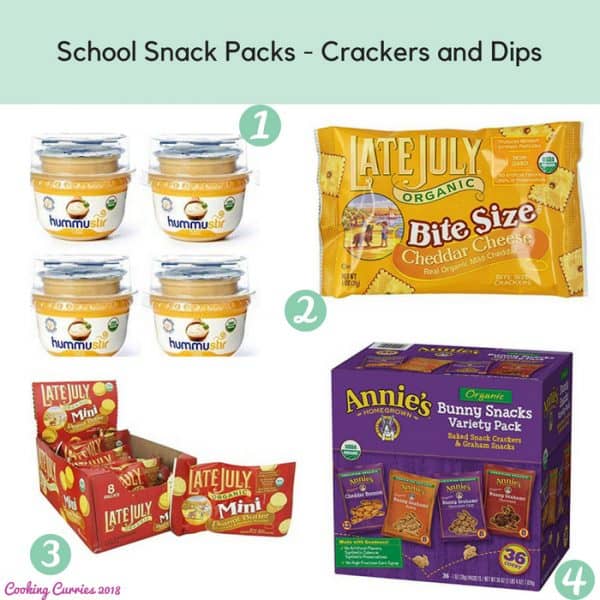 School Snack Packs - Veggie Sticks and Chips
Veggie sticks are a huge hit here and those and chips sound like junk food, so they are a little more appealing, but these household favorites are healthy too.
School Snack Packs - Popcorn and Popcorn Chips
Popcorn is chock full of whole grain goodness and I am yet to come across a kid who doesn't love popcorn.
School Snack Packs - Granola Bars
Granola bars are always great to fill their little tummies for snack, especially if they have a more active day or if you are trying something new in their lunchbox and you are afraid they may not eat all of it.
School Snack Packs - Milk, Yogurt, Juice
Stonyfield Organic, YoKids Strawbana Low Fat Smoothies | 2. Stonyfield Organic, YoKids Strawberry Low Fat Yogurt Squeezers | 3. Honest Kids Certified Organic Variety Pack Juice | 4. Organic Valley Whole Milk | 5. So Delicious Dairy Free Coconutmilk Beverage, Chocolate | 6. Orgain Kids Protein Organic Nutritional Shake, Chocolate
School Snack Packs - Cookies and Other Treats
Because who doesn't love a little treat, every now and then!
School Snack Packs - Packing Essentials
A few of our favorite brands to pack snacks in - all of these have more designs and configurations to suit everyone's needs.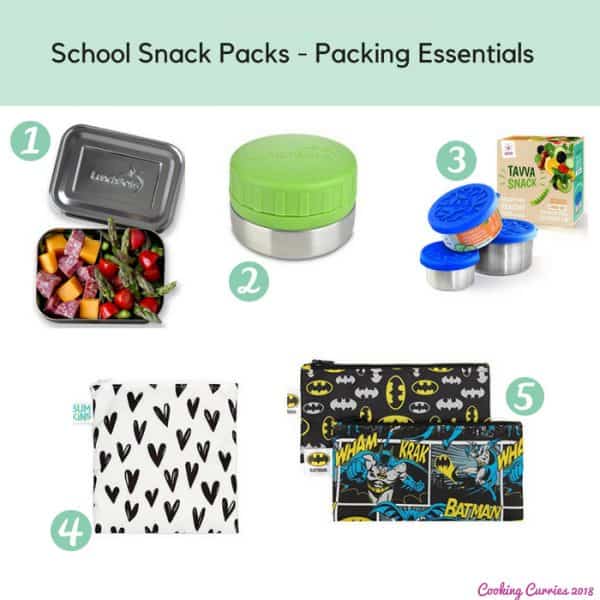 1. LunchBots Small Pico Duo Stainless Steel Snack Container | 2. LunchBots Rounds Stainless Steel Food Container | 3. Tavva Kitchen Snack Containers Set | 4. Bumkins Reusable Snack Bag | 5. Bumkins Reusable Snack Bag Small 2 Pack, DC Comics, Batman
You can pack these as it is or combine a few or combine with some fresh snacks like
Cheese to go with any of the crackers or popcorn
Fruits (grapes and berries are easy to pack with no peeling and chopping)
Baby Carrots
Cucumber + single serve cream cheese spread containers
boiled eggs
I hope you enjoy snack packing as much as your kiddos will love them!