An exhaustive list of a variety of different recipes with rice for quick dinners and elaborate dinner parties. Some recipes use leftover or pre cooked rice and in some others, the rice is cooked along with the other ingredients. Either way there is enough variety to suit every mood.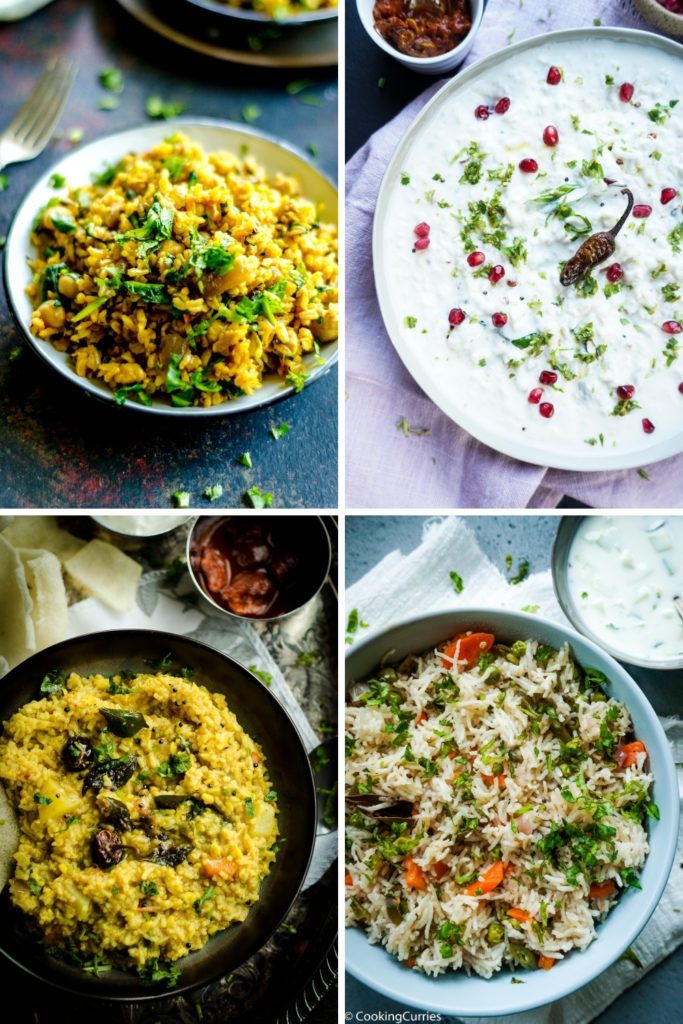 Rice is such a staple main in many countries. It acts as a vehicle to consume other foods like curries or vegetables or meat stir fries. Sometimes, it is a dish of its own. However you make it, it is extremely comforting.
Rice is not just about the minute rice you get in packaged form that you just zap in the microwave. Simple rice recipes are so easy to make and so quick as well that it will be done in no time, even before you chop and assemble to cook your main dish.
But still many of you have a lot of questions when it comes to rice. Here are some frequently asked questions, answered.
What goes good with rice for dinner?
Depending on what rice recipe you make, a variety of different things go very well with it. If it is just plain rice, then any curries - Indian, Thai, Japanese, they all go very well with plain rice. You can also top rice with any stir fries or roasted vegetables or add the rice to them and give it a quick toss.
You can also add cooked rice to any soup to make it more hearty and filling. Rice is such a plain canvas and you can literally do whatever you want with it.
Some of the categories of rice recipes given below are flavored rice recipes and there is a little note in each section with what you can have with those rice dishes.
What can be added to rice to make it tasty? How to give rice flavor?
If just plain rice sounds boring to you, then you can spice up the rice with some flavors by cooking it in chicken or vegetable stock instead of water. That is an instant flavor boost in itself.
Another quick way to add flavor to rice is to fry up some aromatics like garlic or onion or some spices and mix it with the rice. Always remember to season the rice with salt, so the other flavors really pop.
Many of the recipes given below range from quick and easy ways to elaborate ways of adding tons of flavor to rice.
Let's move onto the different rice recipes that you can make for an easy dinner or an elaborate meal. Most of these in fact all of these for right now, are all Indian rice recipes. I will keep adding more rice dinner recipes, as I add to the blog. If you have any requests, do add it in the comments, so I can take a look at it and have the recipe out for you here.The recipes here are divided into broad categories to make it easier to look through.
Biryani recipes
Biryani is the most exquisitely and elaborate flavored one-pot rice dish that is ever there This rice dish originates from India, and most historians believe it was brought into India by the muslim invaders from Persia.
Variations of Biryani can be found in different parts of the country, where the Muslim food culture has clearly influenced it. The different popular versions are Lucknowi biryani, Hyderabadi biryani and Malabar (Kerala) Biryani. There are several other versions that are popular regionally in the different states of India.
Biryani is made with a curry base of vegetables or meat with onions and tomatoes laced with a variety of spices. This is then layered with or mixed with rice and cooked together so the rice gets infused with all these wonderful flavors.
The different types of rice used for biryani varies from place to place. Long grain basmati rice is widely used. Many Southern Indian biryanis with the exception of Hyderabadi biryani use short grain rice called jeerakasala or kaima rice or a similar variety called seeraga samba rice. Whatever rice you use, the fragrant rice adds to the overall flavor of the biryani.
What to serve alongside biryani?
Biryani is usually accompanied by a raita of some kind. This onion cucumber raita works great for most biryanis. Some also serve Indian style pickles and papads along with biryani. In Kerala, the Biryani Chammanti, a thick coconut-mint-cilantro chutney is served with biryani. 
Pulao and Pilaf Recipes
Pulao or Pilaf is flavored rice that is one level below biryanis. Pulao is also made with basmati rice and whole spices are used to flavor the rice. Vegetables or paneer or other ingredients are added to the rice and spice mixture and cooked together. There is no onion-tomato-spice curry sauce in pulaos. That is kind of the main difference between a pulao and a biryani.
What to serve with pulao?
Pulao can be had with a simple raita, like this Cucumber raita or it can be had with any curry like a dal fry or paneer tikka masala.
South Indian flavored rice recipes
As with most Southern Indian recipes, the use of fresh vegetables and herbs takes precedence over the spice and cream heaviness that is normally found in Northern Indian recipes.
In each of these variety rices, as they are called, only one or two main ingredients shine as the distinct flavors. Sourness from lemon or raw mango and earthy flavors of turmeric is what makes the Lemon rice and the Raw Mango rice so delicious. The only spices used in the Ven Pongal is black peppercorns and cumin. You get an idea now, right?
These are all simple yet extremely flavorful rice recipes that work very well for everyday meals.
Fried Rice
This is probably the more popular type of rice dish that you comes to your mind when you think of rice. It is also so very easy to make once you get the proportions right. The trick to making a kick-a$$ fried rice is to use leftover rice. Do not ever use freshly cooked rice. It tends to break and get all mushy, however careful you are.
How to - basic rice recipes
These are basic recipes for how to cook different types of rice. However simple it may seem, cooking rice perfectly so that the grains are separated and not a mushy clump, requires a good recipe.
Rice dessert recipes
Rice is used in one of the most popular dessert recipes across India. Kheer, Payasam or rice pudding, whatever you call it, it is basically some version of rice with milk and sugar. It is one of the easiest kinds of desserts to make and is always a crowd favorite.