Vegetable Rawa / Rava Upma ~ Semolina Breakfast Porridge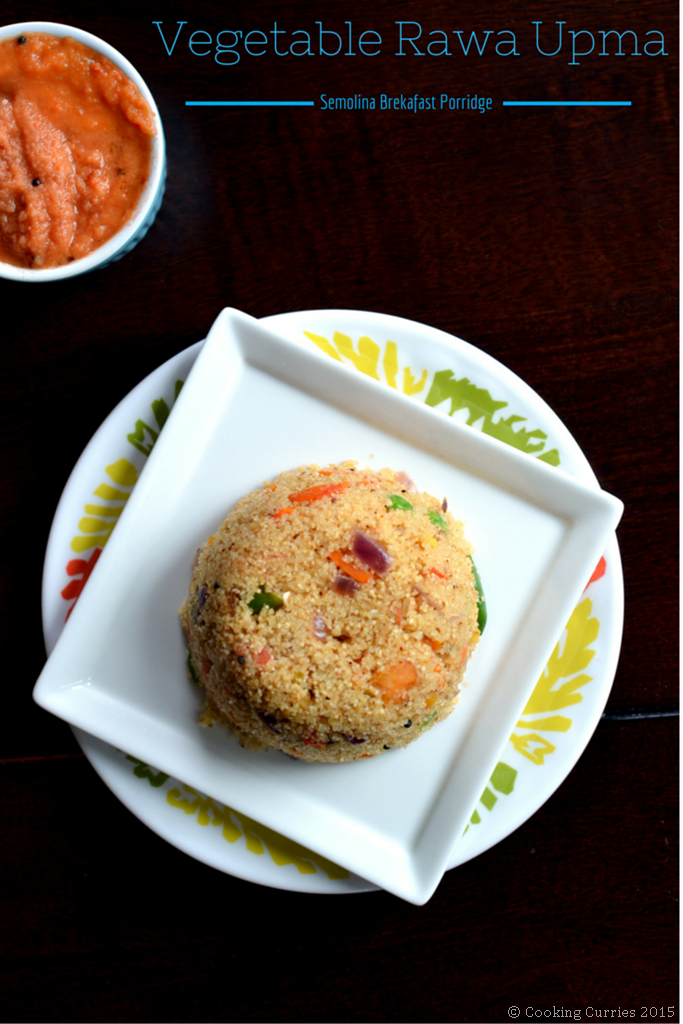 1 cup rawa / rava / semolina
1 tbsp oil
½ tsp mustard seeds
5-6 curry leaves
2 dried red chillies
½ onion, chopped
½ tsp minced ginger
¼ cup green peas, frozen is fine
¼ cup cubed carrots
salt
2 cups water
¼ cup shredded coconut, frozen is fine, but thaw before use.
Roast the rava in a deep heavy bottomed pan on medium heat, stirring constantly, till you get the aroma or roasted rava and it looks evenly light golden brown in color. Remove to a plate and keep aside.
Heat the oil in the same pan, add the mustard seeds. Once it splutters, add the curry leaves and the dried red chillies torn in half. Add the onions and ginger to the pan and sauté it. Once the onions are a little translucent, add the vegetables and sauté for a minute or two. Add salt and water. This will be a good time to test for salt as you wont be able to add any more salt later.
Once the water comes to a boil, lower heat to medium and add the roasted rava to it and stir as you add, so as to avoid any clumps.
Mix well. The rava will absorb the water in a couple of minutes and cook during this time.
Top with the coconut and some ghee (optional) and mix well.
Serve with your favorite chutney and / or sugar and bananas.
Recipe by
Cooking Curries
at https://www.cookingcurries.com/vegetable-rawa-rava-upma-semolina-breakfast-porridge/