Easy to follow, fail proof, step by step guide for making the perfectly fermented dosa and idli batter, along with answers to frequently asked questions.
Easy to follow, fail proof, step by step guide for making the perfectly fermented dosa and idli batter, along with answers to frequently asked questions.
Dosa is a crispy savory crepe style pancake of Southern Indian origin. It is made from a fermented batter of rice and urad dal. Dosas and Idlis are a staple part of the South Indian breakfast rotation.
Making dosa batter is a weekend ritual in most all Southern Indian families. Sunday mornings were welcomed by the sound of the Indian style wet grinder running in the kitchen. A large batch of batter was made on Sundays so multiple meals, not just breakfasts, were taken care of during the week.
It is quite a process to make dosa batter, but once made, you always have something ready to go in the refrigerator for any quick meal. The rice and dal is soaked overnight and then ground separately to make the batter. This batter is then fermented overnight and is ready to go the next morning.
Usually on the first day that the batter is ready to go, Amma makes Idlis. As the batter sits for a few more days, even in the refrigerator it ferments further and turns slightly sour.
Idlis taste better when the batter is not too sour. Hence idlis get the first dibs with the batter and then the same batter is used to make dosas for the rest of the week. After a few days of making dosas, the batter is used for making paniyarams ( puffy little fritter like pancakes with various add ons like onions, chillies, grated carrots etc)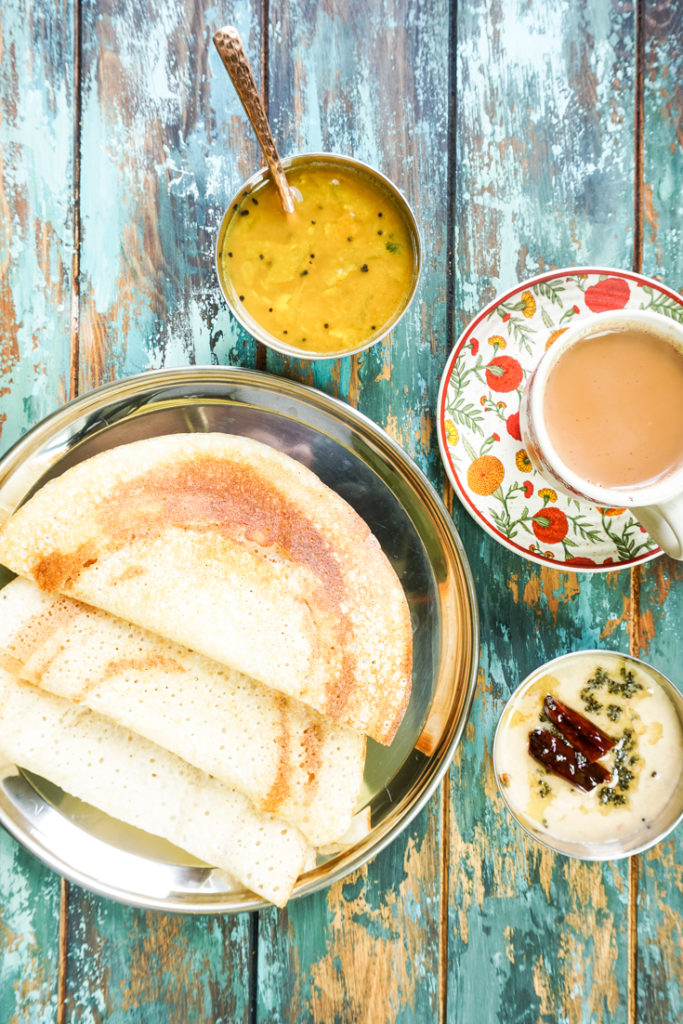 Some families make separate batter for idlis and dosas. In my family, I have seen my grandmother and mom make the same batter and use it first for idlis and then thin out the batter a little as and when they take it out to make dosas.
In this post, I will be using the term idli batter and dosa batter interchangeably. For me the only difference is idli batter is the fermented batter used as it and to make it dosa batter, you thin it out just a little.
To make idli and dosa batter, you need to follow these three steps - soak, grind and ferment. But before that, here are the ingredients to make dosa batter and some common FAQs about them.
Ingredients
The ingredients for making idli and dosa batter are rice, urad dal, fenugreek seeds, salt and water. I haven't felt the need to use cooked rice or poha/ flattened rice to help make the batter perfect.
What kind of rice to use for dosa batter?
Many people use Idli rice to make dosa batter. I use parboiled ponni rice, which I also use to cook rice, so I just have one kind of rice for both of these. You can use idli rice, parboiled ponni rice or parboiled sona masoori rice as well. Do not use raw rice.
What kind of dal to use to make idli batter?
Black gram or dehusked black urad dal is used. Use whole dal in place of the split one, it makes for a better batter.
Fenugreek - to add or not?
Fenugreek is really an optional ingredient. I love the fragrance and flavor from the fenugreek in the batter. It also gives the cooked dosa and idlis an ever so slightly darker color. The idlis are almost ivory like in color instead of pure white. If you want pure white idlis, skip the fenugreek.
Use sea salt or rock salt of any kind. I prefer to use Himalayan pink salt. This is what I use for all my cooking.
Both water and rice are used to help grind the rice and dal and to adjust the consistency of the batter. Use enough water but not too much. Add a little at a time, just enough to help the rice and dal to grind.
Rice to Dal Ratio
And of course, the most important question when it comes to idli batter, the ratio of rice and dal. Everyone has one ratio that works for them and they are all pretty similar yet a little different.
The ratio of rice to dal that I use is 1:¼ , which means for every measure of rice, I use ¼ measure of dal. Amma used to make dosa batter the first few times she visited me here and I just let her do her thing and experiment. Once she got it right and continued to get it right a few times, I copied her process and that is the only way I make dosa batter now.
Soaking the ingredients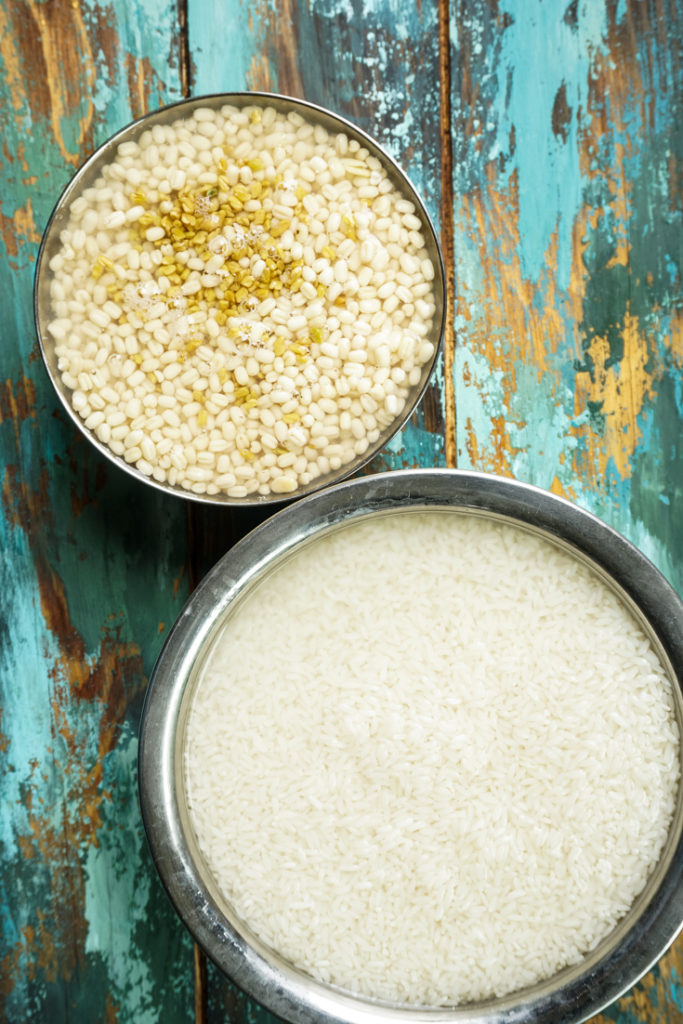 Rinse the dal well under cold running water till the water runs clear. Add enough water to cover the dal and then some. Add the fenugreek seeds to it. Close and let it soak overnight for about 8-9 hours.
Similarly, rinse the rice under cold running water till the water runs clear. Add enough water to cover the rice and then some. Close and let it soak overnight for 8-9 hours.
Grinding Batters
What to use to grind the batter? - Traditionally a wet grinder is used to make dosa batter. If you don't have it, a high power blender like Vitamix or Blendtec does the trick as well. I used to use the traditional wet grinder, but ever since I got the Vitamix, I use that. I can grind only a little at a time but even then the Vitamix does the job faster than the traditional stone wet grinder.
I use the smoothie setting on my Vitamix and it takes about 2 mins to grind the rice to a smooth batter and about 1 ½ ,minutes to grind the dal. This is for 1 cup rice and ¼ cup dal. It is best to add 1 or max 1 ½ cups rice at a time to the Vitamix to make sure that it grinds it well. So, if you are using more rice and dal, you may need to grind the rice in a couple of batches.
To grind separately or not? This is another common difference you see when looking at recipes to make dosa batter. Many soak the rice and dal together and grind them together to make the batter and they have had good results with it. I have always seen my family soak the rice and dal separately and grind them separately.
The two batters are then mixed together before letting it ferment. Aside from following what I learnt from Amma, another reason why I do it separately is so I can make sure that my lentils have not only blended to a fine batter but it has also become fluffy. This is one check that I have been taught to do to make sure the dal batter is done.
Why use ice cubes while blending? While blending I use ice cubes and ice cold water to help blend the rice and lentils. When using an electric grinder or blender to blend, instead of the very traditional stone grinder that you use your hands to blend it, there is considerable heat imparted to the rice and lentil batter from the electric machine working its magic. Ice cubes and ice water helps counteract this. We want the batter to get any kind of warmth only when it is sitting to ferment, not before that.
Consistency of batter - almost like pancake batter. Err on the side of making the batter thick, you can always add water as you go. Don't make it too thick either, it will make it harder for the batter to rise and ferment. I would go with a thicker pancake batter, one that would flow easily from your hand, to begin with.
When to add salt? Some say to add salt before fermentation, some add after. I usually add before fermentation and it has worked well for me, in spite of living in a cool climate.
How to ferment - oven method, yogurt setting on instant pot
There are a couple of different methods to use to ferment the idli batter, especially in colder weather areas. In warmer climates, you can just leave the batter on the kitchen countertop overnight and it will ferment by itself. In cooler climate zones, you have to help the batter a little so it can ferment well.
Oven method
This is the method I used before I bought an Instant Pot and way before Instant Pot's even existed. To ferment idli batter in an oven, preheat the oven to 200F and turn it off. Place the batter in a large bowl such that the batter is only less than half of the bowl and it has enough space to expand when fermenting.
Place the bowl with the batter on a large baking sheet and place in the oven while the oven is still hot. The baking sheet helps collect any overflow of fermented batter and protects your oven from the spills.
Close the oven and turn on the light to add some extra warmth. Leave it overnight.
Your batter should ferment and increase to almost double its size by morning.
Instant Pot Method
Place the batter in the inner pot of the Instant Pot. Place it in the Instant Pot. Press the YOGURT mode button and adjust the timer to 12 hrs.
Close the Instant Pot with a regular plate or glass lid. Do not use the regular Instant Pot lid as it may get jammed if the dosa batter rises all the way up.
Make sure that the Instant Pot is only filled maximum up to the halfway mark leaving enough space for the batter to ferment and rise.
It takes me about 12-13 hours, here in Seattle, for the batter to ferment nicely and for it to rise well. In warmer places, it may take less time, probably around 8-10 hours or even less.
To know if the batter has fermented, here are some tell tale signs. The batter volume will obviously increase and it will be visibly fluffy. You may even see a little cracking of sorts on top of the batter, this is where the top layer may have dried a teensy bit and the expansion causes these cracks. There is also the signature scent of fermented batter. This will be very different from the fresh batter that you put in to ferment.
Other tips to make a fail proof dosa batter:
While grinding dal and rice, don't add too much water. Add just enough to help the blender or grinder to get moving and then add a little by little throughout the grinding process. If you add too much water, then the rice and dal won't grind to a smooth batter.
Too much water will also affect the fermentation process.
Some like their rice batter to be a little coarse. I make both the rice and dal batter smooth. That is how it has always been made in my family.
To make idlis, don't add any water to the fermented batter. Use it as it is. If the batter this not really thick with all the air from the fermentation, you will not get soft and fluffy idlis.
Get in there and mix the rice and dal batter together with your hand. Add some sea salt to it. It is said that mixing with your hand gets some good bacteria in and helps ferment the batter better. Of course, wash your hands before doing this.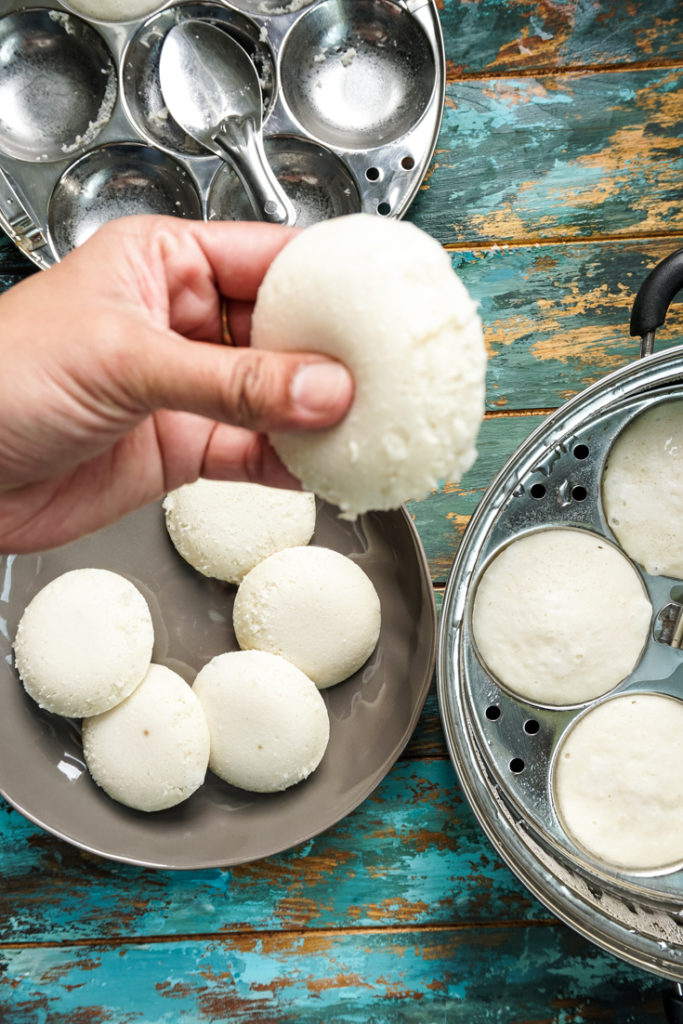 Idli and Dosa variations
The regular idli and dosa are delicious in itself. But there are several variations to these breakfast items, some made with the same batter and some with different batters altogether. Here are some of them. I will add the links as I get the recipes up here.
Masala Dosa
Uthappam
Egg Dosa
Kadhai Dosa or Chatti Dosai
Gothambu Dosa / Wheat Dosa
Adai Dosa / Mixed Lentil Dosa
You can also make perfect crispy dosas at home with all the expert tips and tricks in this Dosa recipe post.
📖 Recipe
Idli Dosa Batter Recipe
Easy to follow, fail proof, step by step guide for making the perfectly fermented dosa and idli batter, along with answers to frequently asked questions.
Ingredients
1

cup

parboiled ponni rice

or idli rice

¼

cup

whole urad dal

½

teaspoon

fenugreek seeds

1 ½

teaspoon

Himalayan rock salt
Don't forget to check out Step-by-step instructions with photos in the body of the post above
Instructions
Rinse the rice and dal separately till water runs clear.

Add the fenugreek seeds with the dal and soak the rice and dal in water, separately, for 8 hours or overnight.

Drain the water from the dal and add it to the Vitamix jar. Add about ⅛ cup of ice cold water to get it started.

Grind in smoothie mode, till the batter is smooth and fluffy.

Remove batter from the blender jar and move it to the Instant Pot inner pot.

Add the rice to the blender. Add about ¼ cup of ice cold water and a couple of ice cubes.

Grind in smoothie mode. Add more water if needed.

Grind till the batter is smooth.

Move this to the same pot as the dal batter.

Add salt to this and mix well with clean hands.

Close the Instant Pot with a plate and set the Instant Pot to Yogurt mode and adjust time to 12 or 13 hrs.

Let it ferment overnight. When the batter is all fluffy and have risen up in the morning, it is fermented and can be used to make idlis right away.
Notes
Note that the fermented batter will be a little thicker than the batter before fermenting.
Instructions in this recipe card are for the batter using a Vitamix for blending and the Instant Pot for fermenting. Details of other methods are in the post.
Please read the entire post for all FAQs, other tips and tricks - this is essential if you want to get this right.
Nutrition
Calories:
35
kcal
Carbohydrates:
7
g
Protein:
1
g
Fat:
1
g
Saturated Fat:
1
g
Sodium:
146
mg
Potassium:
10
mg
Fiber:
1
g
Sugar:
1
g
Vitamin A:
1
IU
Vitamin C:
1
mg
Calcium:
4
mg
Iron:
1
mg