Sockeye salmon steaks are coated with an Indian style marinade and pan fried to make this delicious, Salmon Masala Fry.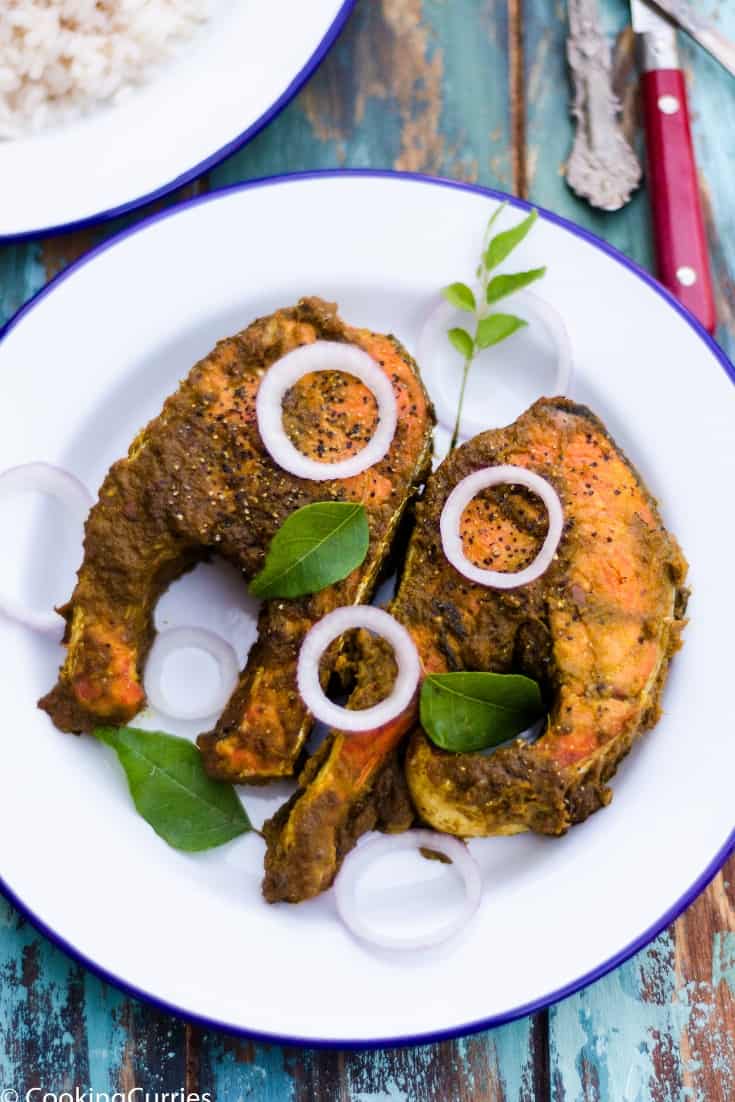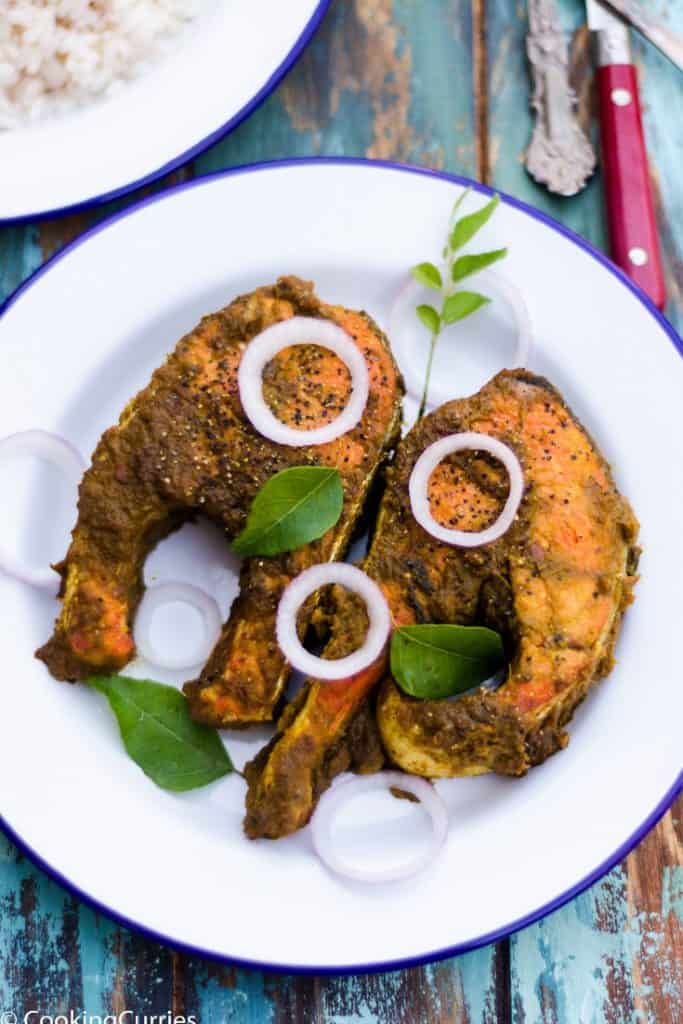 Being a vegetarian and learning to cook meat was a fun journey. I was always interested in knowing how to cook everything, whether I eat it or not and luckily got married to a guy who loves to eat everything, whether he cooks it or not! 🙂 He has been my guinea pig for all my kitchen experiments with meat and seafood.
Chicken and other meat are a little easier to handle, for me, while I am always a little scared of handling sea food. I find it to be too delicate that I am afraid I would easily over cook it or over power it with spices or something like that. And, the husband loves the Indian style of seafood curries and fries with lots of spices and all that stuff. He finds other seafood preparations rather bland. Coming from a part of India where salt water and fresh water are abundant and cooked very often, almost daily, I totally understand it. But that just made it a little more intimidating.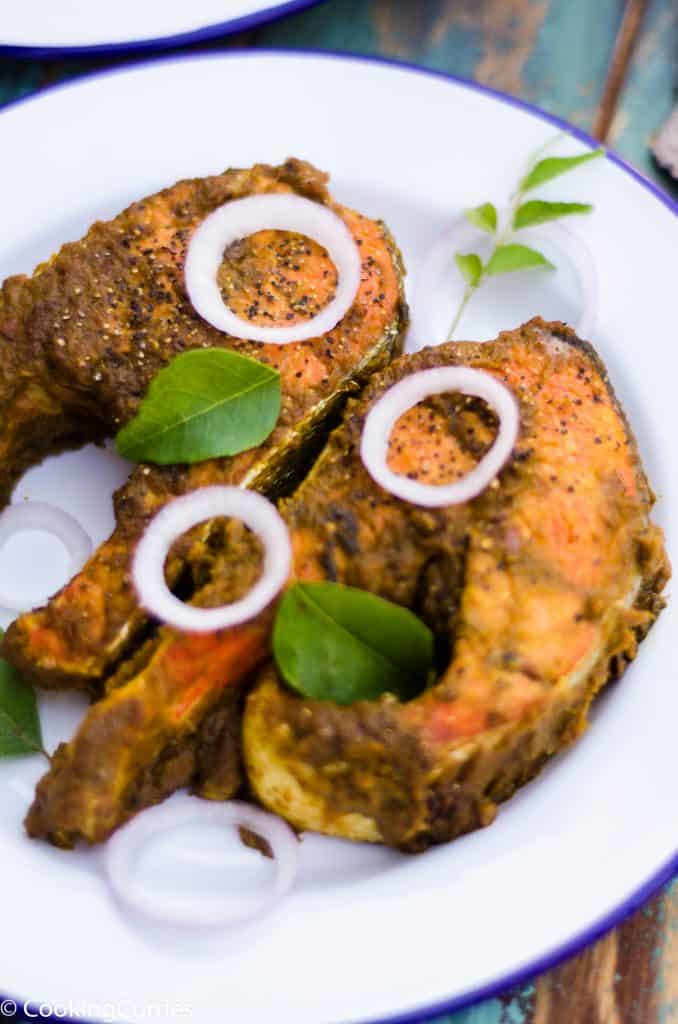 And to top it off, you don't get the same kind of fish here, that you get back home in Kerala, so I can't really switch it up with my mom-in-law's recipes. What I started doing in the last several years is to get my mom-in-law to cook fish at home here, when they visit us. We go fish shopping, she cooks, experiments and comes up with viable substitutes for various fish curries that the husband is used to.
We have found that salmon is a good enough substitute for many Indian and Kerala style fish preparations. Especially for some curries and fries where you need steaks and not fillets.
So, whenever I find good fish steaks, I buy them and make something for the husband right away.
This is an easy recipe for Indian Style Salmon Masala Fry made with sockeye salmon steaks coated with some basic spices, garlic, ginger, cilantro and tomatoes. A little tamarind is used for some extra tang and that smokey tang flavor, but if that is hard to find, you can always substitute it with a squeeze of lime. Just make sure you squeeze the lime out at the end and not cook after squeezing lime to the fish as that might make it bitter.
📖 Recipe
Indian Style Salmon Masala Fry
Ingredients
2

lb

sockeye salmon steaks

about 3-4 steaks

2

tablespoon

coconut oil

1

teaspoon

turmeric powder

1

teaspoon

garam masala

salt

to taste

½

cup

thin tamarind puree

from 2 tablespoon tamarind squeezed out with ½ cup water
To grind to a paste
2

medium

red onions

10

cloves

garlic

2

2 inch piece

ginger

2

cups

cilantro

packed tight

2

medium

tomatoes

1

teaspoon

cumin seeds
Don't forget to check out Step-by-step instructions with photos in the body of the post above
Instructions
Grind all the ingredients under " grind to a fine paste" to a fine paste with a little water.

Heat the coconut oil in a saute pan, add the ground paste, turmeric, garam masala and salt.

Once the paste cooks, gets thickened and starts to leave the side, add the tamarind puree to it.

Let it start bubbling. Add the salmon steaks to it.

Lower heat to medium and cover and cook for 3 minutes.

Flip steaks over and cover and cook for 4 -5 mins till cooked. Flip over and repeat cooking one more time.

Remove from pan and serve as it is on a bed of salad or with rice and dal or a curry.
Nutrition
Calories:
878
kcal
Carbohydrates:
27
g
Protein:
92
g
Fat:
43
g
Saturated Fat:
16
g
Cholesterol:
249
mg
Sodium:
221
mg
Potassium:
2674
mg
Fiber:
3
g
Sugar:
18
g
Vitamin A:
1520
IU
Vitamin C:
14.3
mg
Calcium:
124
mg
Iron:
6.2
mg