Get the signature pink color for Pal Ada Pradhaman and the perfect consistency, by making it quick and easy in the Instant Pot, where you can just set it and forget it while you cook up all the other delicious dishes for your sadya or meal.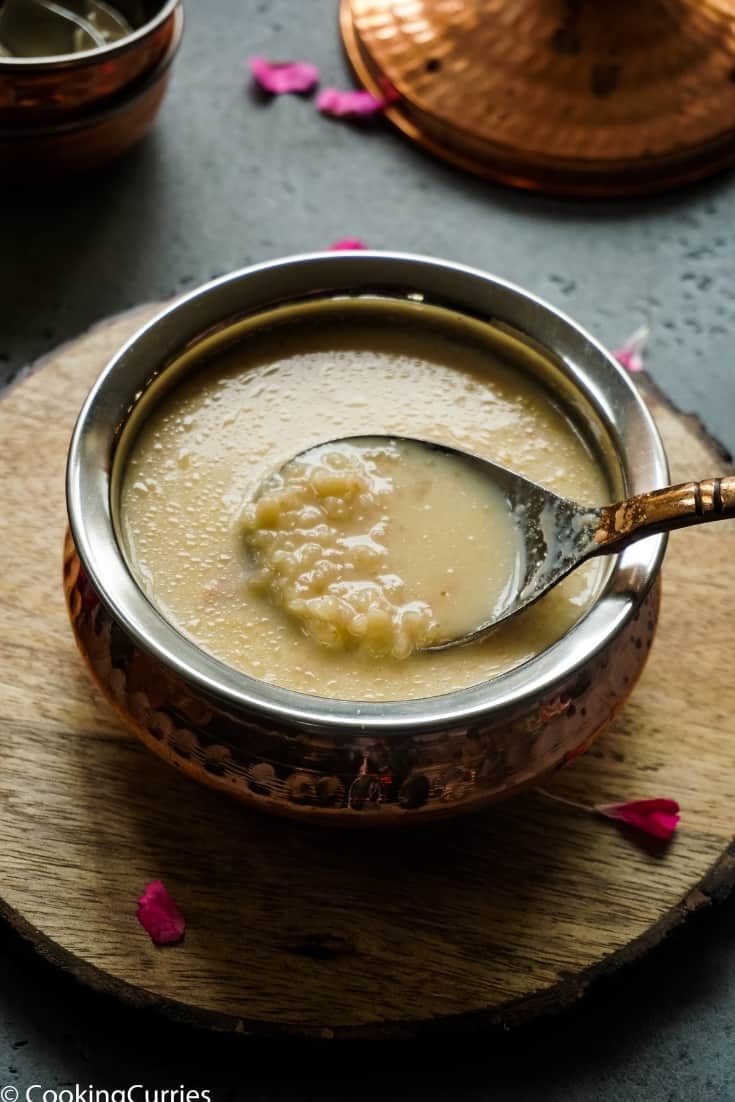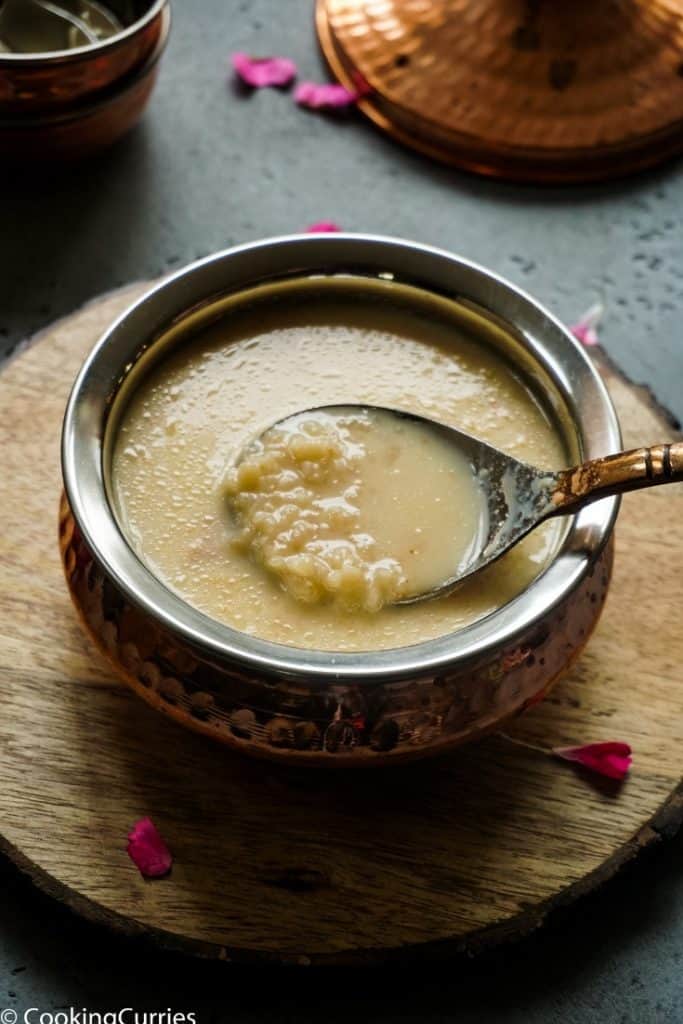 Ada is sun dried rice pasta bits. These are made into a pudding like dessert with milk (pal) and sugar and nothing else, but it is one of the most delectable, delicious thing you can ever eat. Ada made in Pal is Pal Ada Payasam.
Just the simple goodness of reduced milk, sweetened with sugar and thickened with starchy rice pasta bits.
Here is a growing collection of more Kerala Sadya recipes made in the Instant Pot - Instant Pot Kerala Sadya Recipes.
How to make pink palada pradhaman?
The signature pink color of this dessert is a sign of a well made payasam. The milk has reduced perfectly, traditionally, by slow cooking it, thus giving it that pink-ish tinge. Usually, when you don't have that much time in hand, you wait till the palada has cooked and the milk starts to thicken and come together and call it that. Achieving that pink color is a matter of pride for most Malayalee home cooks.
Making it in the Instant Pot is a sure shot way of getting that gorgeous color in your palada payasam. And the best thing is, it can do its thing, while you can focus on other things. As I always say about Instant Pot, there is no need to babysit.
Another way to make this is in the slow cooker - my recipe for Slow Cooker Pal Ada Pradhaman is here.
How is Pal Ada Pradhaman made?
Pal Ada Pradhaman is nothing but a payasam made with milk and sugar and uses rice ada or rice pasta bits as the main ingredient. The same thing when made with vermicelli / semiya is semiya payasam and when made with rice is Pal Payasam.
The ingredients I use to making Pal Ada Pradhaman are just four - rice ada, ghee, milk and sugar. Some use cardamom and also season with fried cashew nuts and raisins. But I prefer to leave this as it is and highlight the concentrated reduced flavor of the milk.
📖 Recipe
Instant Pot Pal Ada Pradhaman
Don't forget to check out Step-by-step instructions with photos in the body of the post above
Instructions
Press SAUTE on the Instant Pot.

Add the ghee and the palada to it. Fry the palada for a minute or so.

Pour in the milk and mix well.

Press CANCEL. Close the lid and seal the vent.

Press MANUAL and adjust time for 25 mins.

Wait for pressure to release naturally once done cooking. The little pin next to the vent will go down once pressure is all released.

Move the sealing knob to vent. Open the lid. Hit CANCEL.

Press SAUTE, add sugar and stir it in. Let is cook for 5 mins or so till the sugar melts in.

Serve warm or refrigerate and serve cold later.
Nutrition
Serving:
12
cup
Calories:
518
kcal
Carbohydrates:
89
g
Protein:
7
g
Fat:
15
g
Saturated Fat:
9
g
Cholesterol:
43
mg
Sodium:
106
mg
Potassium:
322
mg
Sugar:
87
g
Vitamin A:
395
IU
Calcium:
276
mg
Iron:
0.1
mg