Delicious Kerala Bakery Style Egg Puffs are made with hard boiled eggs and a spicy onion masala baked inside crispy puff pastry parcels. They are the perfect tea time snack.
In Kerala, crispy puff pastry pockets filled with spiced vegetables, hard boiled eggs or meat - called puffs in general are very popular evening snacks available in bakeries. Vegetable puffs, egg puffs and meat puffs are displayed along with cutlets, bread rolls, slices of layered cake pastries and lots more other goodies. This is a very typical scene in bakeries all across Kerala, a southern state in India.
Tea time is popular and sacred across the country but the snacks served with tea varies from place to place. In some places, it is chaat or samosa, in other places it is dhokla or muthiya. There are also pakoras, medhu vada or paripuu vada, bajji, or just savories/ namkeen. All served alongside a cup of hot homemade chai around 4 pm.
I miss the whole bakery scene here in the US, especially for savory snacks. Veg puffs, bajji, pazhampori and cutlets were such a big part of growing up for me. Appa would buy some on his way back from work or we would go to the bakeries on weekends to buy something for tea time. All such good memories are associated with food.
You will love this Kerala Style Egg Puffs because
They are buttery crispy on the outside but soft and sweet and spicy on the inside
They pair so well with a hot cup of chai
They are just so very easy to make with readymade puff pastry sheets
The filling can be made ahead, so you can make it anytime in about 15-20 mins.
Ingredients for Egg Puffs
Puff Pastry sheets - store bought readymade puff pastry sheets will do perfectly fine for this recipe. Make sure to thaw them at room temperature for at least 30-45 mins before using.
Eggs - hard-boiled eggs sliced in half is used in this recipe.
Aromatics - onion, ginger, garlic, curry leaves and tomatoes are used as the base to make this Kerala Bakery Style Egg Puffs
Spices - a combination of spices that form the base of most Indian cooking - turmeric powder, cayenne (red chilli powder), black pepper powder, ground coriander, ground fennel and garam masala is what is used in this recipe.
Coconut Oil - most all Kerala recipes use coconut oil as with this recipe. This adds that very unique flavor to this recipe.
Tomato ketchup - this may sound a little strange but it rounds up the flavors and adds that little bit of sweetness that is signature of the filling for kerala egg puffs.
Salt
Flour - to roll out the puff pastry sheet
Egg and milk - for egg wash
Method
Boiling the eggs
Make hard boiled eggs in any way that you normally do. I used to do it on the stove top but ever since I started boiling the eggs in an Instant Pot, which is such a game changer in getting the perfect hard boiled eggs, I never looked back.
Making the tomato onion mixture
In a kadhai or wide pan over medium heat, heat the coconut oil, add the curry leaves and sliced onions. Once the onions start to turn color add crushed ginger and garlic.
Saute for a few minutes till the raw smell of garlic starts to disappear and the onion starts to caramelize and turn brown (not burnt). Add some salt to help fasten this process.
Add in the chopped tomatoes and saute for a few more minutes till the tomatoes soften.
Now add all the spices - the turmeric powder, red chili powder, black pepper powder, ground fennel, ground coriander and garam masala. Season with salt as well.
Saute for a couple of minutes till the spices get cooked. Add a little water, about a tablespoon or so, to the onion masala mixture at this point to keep it from getting burnt.
Prepping the puff pastry sheet
Thaw the readymade puff pastry sheet at room temperature for about 30-45 mins.
Dust the countertop / work surface with some all purpose flour and lay out the thawed puff pastry sheet. Gently roll it out just a little bit to get a thin layer of it.
Cut one sheet into 6 roughly equal squares.
Assembling the egg puffs
Make an egg wash with one egg and a tablespoon of milk whisked well together.
Take one square of the puff pastry, line the edges with the egg wash. This helps keep it together when folded to a parcel.
Fill the center of the puff pastry square with about 2 tablespoons of the onion mixture. Add one half of a boiled egg on top of it. Top the egg with a little ( a teaspoon) more of the onion mixture.
Now fold the four corner of the puff pastry square so that they overlap over the egg. Press ever so lightly to seal.
Brush the top of the puff pastry parcel with the egg wash. Place it on a baking sheet.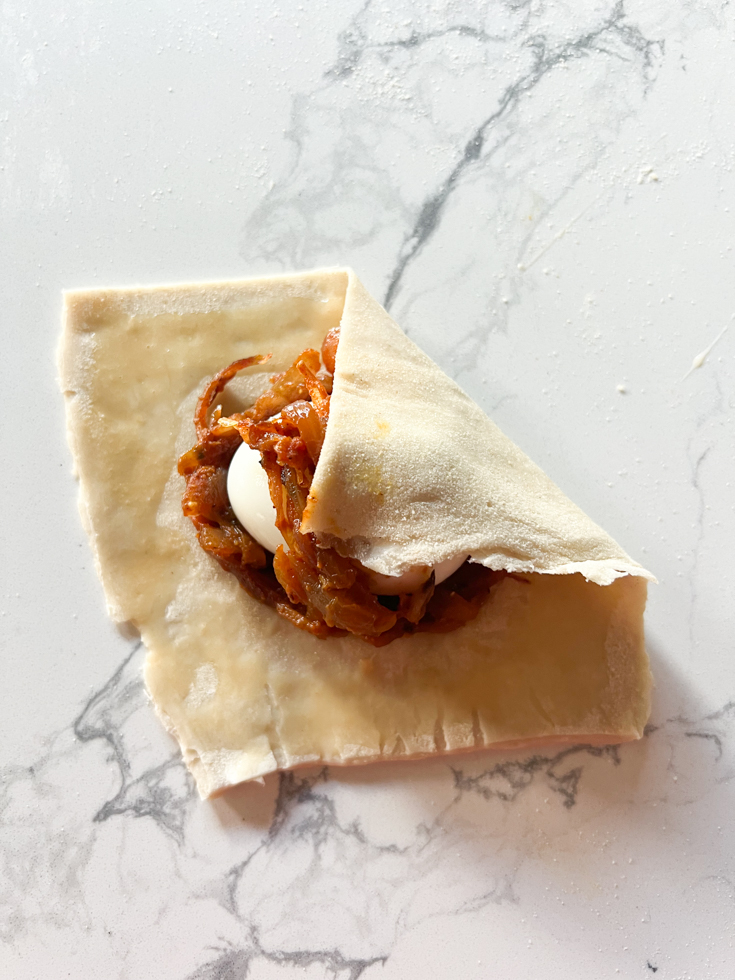 Baking the egg puffs
Preheat the oven to 400F.
Once all the puffs are assembled and placed on the baking sheet, place the sheet in the oven. Bake for 20- 25 minutes till the top is golden brown and the puff pastry has risen and puffed up, hence the name puffs.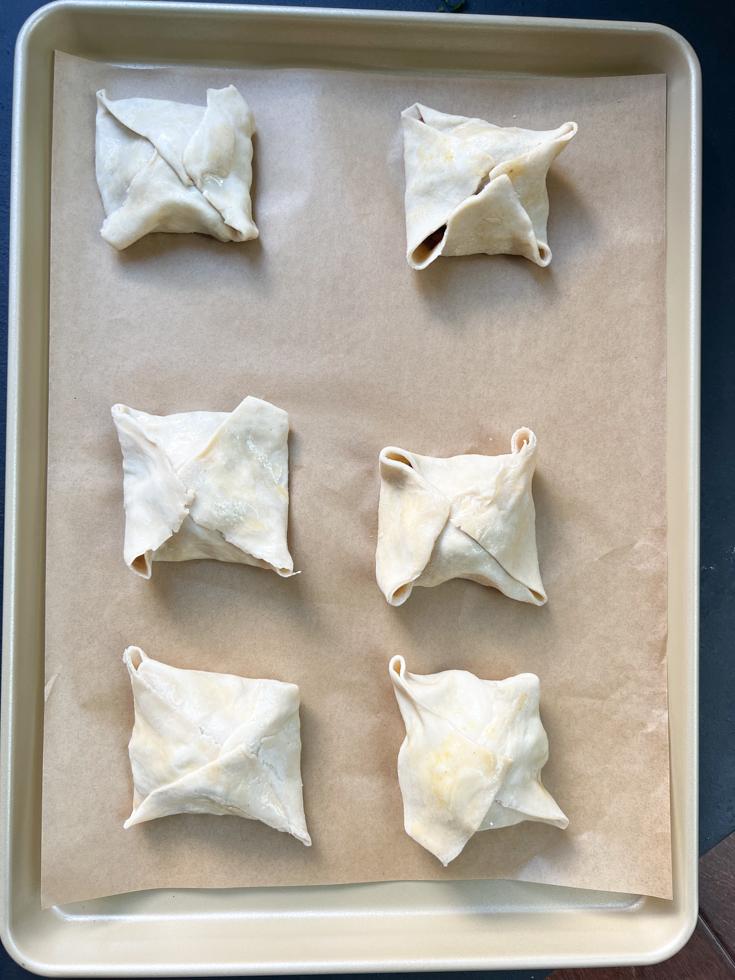 Serving Suggestions
Egg puffs are typically served hot with some tomato ketchup / tomato sauce as a dip. To add to the experience, serve a hot cup of tea or hot coffee along with this.
Recipe tips
The caramelization of the onion is very important to bring out the sweetness in the egg puffs. That along with the tomato ketchup brings the perfect balance of spiciness with an undertone of sweetness, that is very typical of egg puff or veg puffs.
Buy pre-boiled eggs from the store to make it easier.