50+ Kerala Christmas recipes to create a wonderful spread for a Kerala Style Christmas Dinner.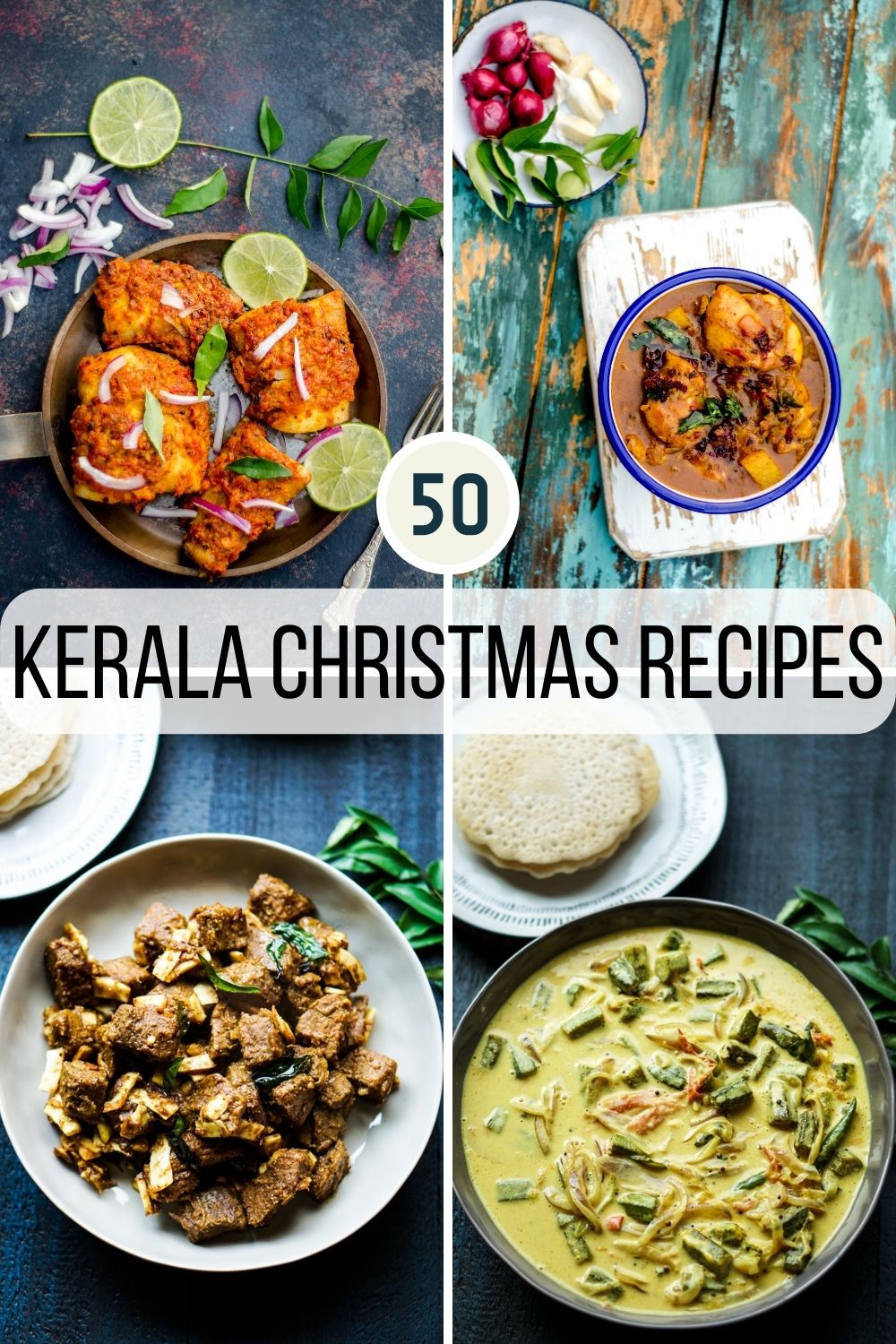 Growing up in Kerala, with a considerably larger number of Christian population, Christmas was always celebrated with much excitement, be it at home – with your neighbors and friends dropping by with homemade wine and fruit cakes or at school with Christmas carols and tree decorations. The highlight was of course the 2 week Christmas vacation / break that you got from school.
In any Malayalee Christian house, Christmas is celebrated with a feast of several courses of chicken and fish and meat dishes and lots of alcohol. Over time I have tried to capture a lot of those recipes here and this is a quick collection of those recipes put together for you for your Christmas party planning.
This Kerala Christmas recipes collection has everything from appetizers, cocktails, chicken curries, beef recipes, mutton curries, fish recipes, egg and vegetarian recipes and some biryani and rice recipes as well.
To create your own Kerala Christmas menu, choose a few from each section or follow the instructions in each section on how to choose what and how many depending on your guest list.
Appetizers
Any party needs a good spread of appetizers to get the party started. These can be finger food or otherwise. Just make sure to lay out serve ware, appetizer plates / napkins and silverware accordingly.
Cocktails
Parties have to have some good cocktails. I love to have a selection of cocktails and wine for guests to choose from. Some of these cocktails can also be made without alcohol for any guest who need that.
From the next few sections of Chicken, Mutton, Beef, Seafood and Vegetarian recipes, choose three or four kinds. There are curries that have a saucy base (gravy) to it and some are drier curries. Pick a couple of curries with sauce and a couple of dry one. Also make sure to accommodate your guests dietary preferences and have a few vegetarian dishes in the mix as well.
Chicken Recipes
Mutton / Beef Recipes
Fish / Other Seafood Recipes
Egg Recipes
Vegetarian Recipes
Rice / Biryani Recipes
These biryani recipes are very rich and flavorful by themselves. You can easily serve some appetizers and just these for the main course. Pick a meat version and a vegetarian version to cater to everyone's needs. Add a raita, fry up some pappadam and set out some pickle for guests to enjoy the biryani with.
The plain Kerala matta rice can be made in place of any plain white rice you plan to make or you can make basmati rice as well. Have a few different curries to go along with the plain rice.
Dessert Recipes
A few cake recipes, some panna cotta and creme brulee recipes and some traditional Kerala and Indian recipes like payasam and gulab jamun to over your bases for any comfort level of dessert making that you may have.
There are more dessert recipes here, if you need.