Olan is a delicately flavored curry made with Winter Melon / Ash Gourd / white pumpkin and Red Beans / Cowpeas  or Black eyed peas simmered in Coconut Milk. It is a classic Kerala dish that is made for Onam sadya.
Here I have made it with black eyed peas instead of red beans.
One specialty of all the vegetable sides that are served in a Sadya is that there is just about enough spices and other flavoring ingredients used so that it doesn't overpower the natural taste of the vegetables but brings out the best in the dish as well. Mostly it is a little ginger or green chillies to bring that spicy zing and sometimes a little cumin is added to give a different dimension. The base is mostly coconut – grated, ground or coconut milk and/or yogurt. It is amazing how various combinations of these with different vegetables bring out such a wide variety of curries. Olan is one such dish where the green chillies cooked in coconut milk gives that special flavor to the gourd/melons.
This classic Kerala dish is so simple that it comes together in no time. Using very few simple ingredients like ash gourd, red beans, coconut milk, curry leaves, green chillies and salt, Olan is a very comforting curry.
Olan pairs well with steamed white rice or Kerala Matta Rice.
Ingredients to make Kerala Olan recipe
CowPeas / Red Beans - Technically, there are two varieties of cowpeas, the red ones called red lobhia / chawli / van payar (in Malayalam) and the white cow peas called black-eyed peas / lobhia / vella payar (in Malayalam). Both varieties can be used in Olan. Adzuki beans are often mistaken for red beans, even though it is technically a mung bean. But for the purpose of this recipe, Adzuki beans can be used as well. In fact, that is what I use most of the time.
Coconut Milk - coconut milk forms the base for this curry recipe. Freshly homemade coconut milk is traditionally used in this recipe. Fresh coconut is grated, then pressed to extract coconut milk from it. The coconut milk that you get in the first press is a thick coconut milk. In subsequent pressing, a little water is added to the coconut meat before pressing, so the milk that comes out then is a thin coconut milk. In curries like this or in sweet desserts like payasam, the thin coconut milk is added when the curry is cooking and then the thick coconut milk is added at the end and the curry is not allowed to come to a boil after that, as the fat in the thick coconut milk can separate. I have easier access to store-bought coconut milk in a can and that is what I use and most others use as well to make this sadya recipe.
Curry leaves - fresh curry leaves are a necessary ingredient in this recipe as it is the only real aromatics used.
Thai green chillies - green chilies or serrano peppers are used to add a touch of heat to Olan. You can substitute with jalapenos if you absolutely have to.
Coconut oil - Olan is one such curry where the oil is not heated to bloom any aromatics or saute anything. The oil is just drizzled on top of the hot curry to add another layer of coconut-y goodness to this.
Salt
How to make Olan
Soak the beans in water for about an hour. Peel and deseed the melon and cut it into cubes.
Cook the melon / ash gourd, curry leaves and green chillies in about ½ cup water till it is soft but not mushy. 
Rinse and cook the beans in a pressure cooker for 2-3 whistles to be soft but not mushy. You can cook it on the stove top as well. To make Olan in the Instant Pot, you can find the instructions in the Instant Pot Olan recipe.
Drain the water from the beans, and keep it aside. Add the cooked cowpeas to the cooked melon. Add more of the cooked beans water if you need. Remember that we are going to add coconut milk to this, so you don't want the curry to be too thin.
Add salt and coconut milk and let it simmer for about 5 mins. Turn off the heat.
Drizzle some coconut oil over it while the olan is still hot, so as to release the wonderful aroma. Close with a lid to capture the aroma into the curry and let it sit till ready to serve.
What to serve Olan with?
Olan is served with hot steamed white rice or Kerala matta rice. It is especially delicious when Olan is served on a banana leaf for Onam sadya.
Since olan is basically a stew like Kerala vegetable stew, it can also be served as a side for Kerala breakfast staples like dosa, idli, idiyappam or appam.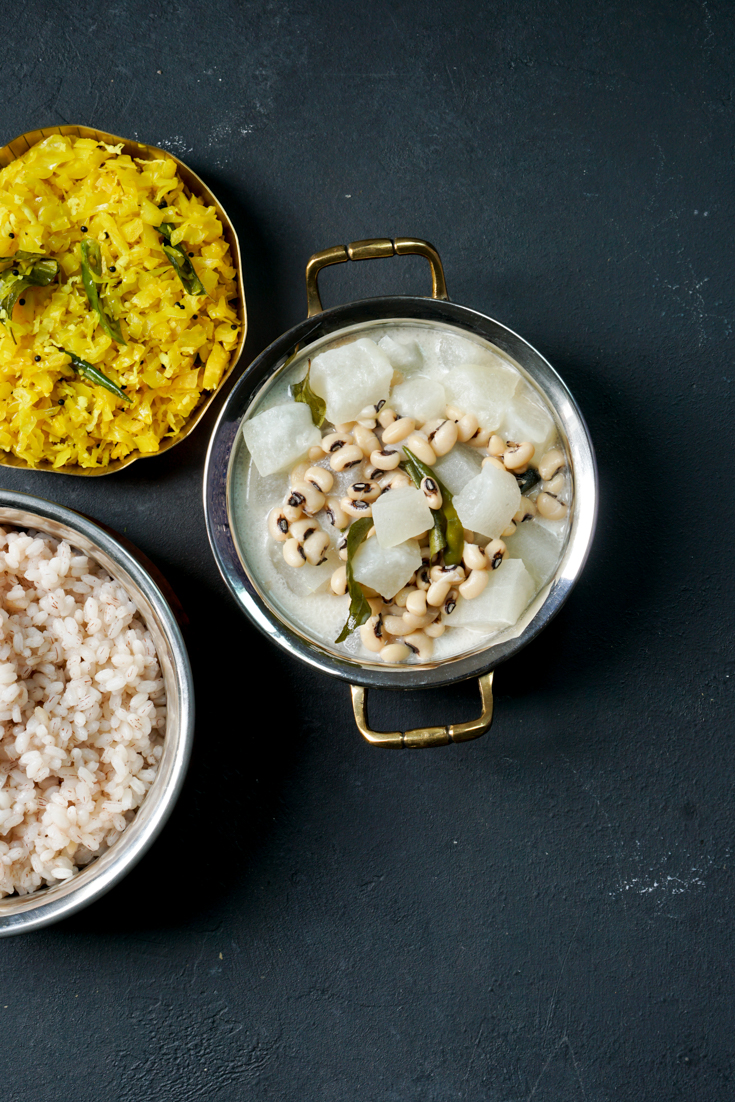 Recipe tips / variations for making Olan
If you are using homemade coconut milk, cook the melon in the second pressed thin coconut milk and add the thick first pressed coconut milk towards the end.
I don't mind using the water from the cooked beans if needed but some are particular about the color of the olan to be white. If you want it to be white then don't use the water from the cooked beans as it may be pink or muddy white depending on the beans used. I love the reddish pink hue in Olan and that's a personal choice/.
Once you add the coconut milk, especially the thicker milk when using homemade coconut milk, do not boil the curry. Let it simmer for just a few minutes for the flavors to get in. Otherwise the fat may separate and that is not gonna be good.
📖 Recipe
If you are looking for the Instant Pot version of this recipe, Instant Pot Olan recipe is here: