Add some glam to your dinner table with this muted, yet festive and classy table décor idea for Diwali with a lotus pink and antique gold color theme.
Diwali decorations in the house need not be limited to the living room, entryway and outside. Your dining room and especially your dining table can be decked up too.
I love to put together a special tablescape every year for Diwali. Whether it is while hosting a Diwali party or just a Diwali night dinner with the family.
Need recipe inspiration for Diwali?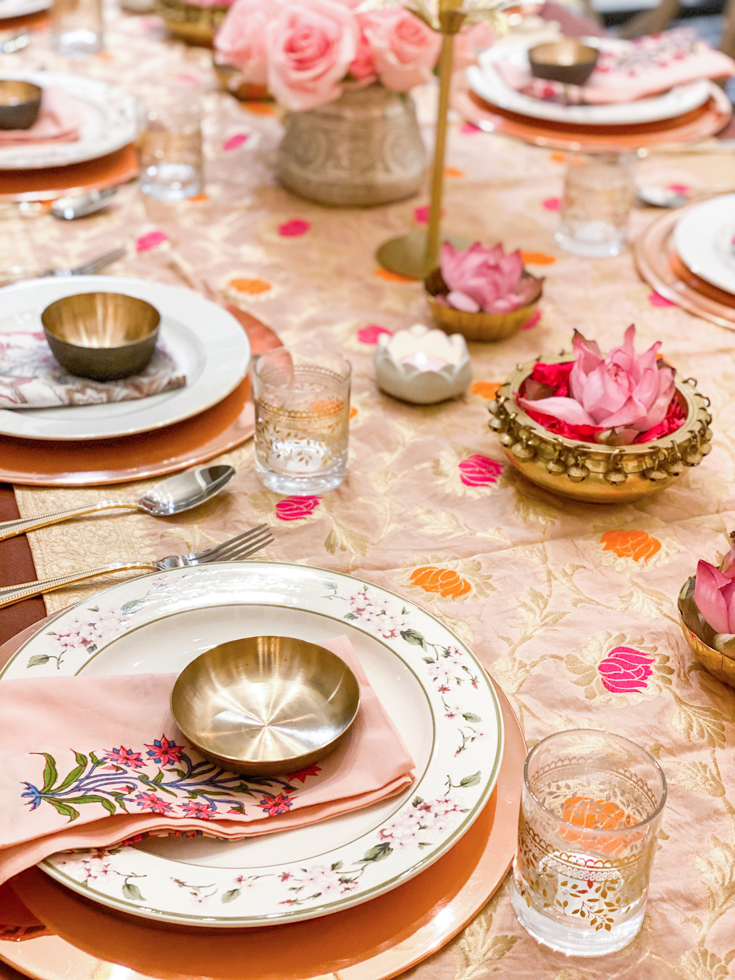 A few tips and tricks to come up with all the different elements at a dinner table
Decide on a color theme. Even if you have the theme for the festival, holiday or occasion, it helps to have a color theme to bind together all the components in the tablescape. This year I went with a lotus pink and antique gold, copper and brass color tones. Once I decided on the lotus pink as one of the colors, I also started looking at other ways to incorporate lotus in the table décor.
Use what you have at hand. Start from here before you head out to buy brand new everything. A lot of the things I used were what I already had at home.
Get creative by mixing and matching. As long as you stick to your color theme, it will look gorgeous in the end. I used a mix and match of dinner plates, napkins and glasses as I had to set a table to 10 guests and most of the sets I had were either 6 or 8.
Fresh flowers and candles always add some extra magic to the table. I stuck to the color theme while selecting the flowers and the candle. Also, always use flowers that are not heavily fragrant. You don't want it taking away from the smell and taste of the delicious food served at dinner.
Here is a list of all that I used to set up this dinner table setting for Diwali.
Tablecloth and runner - The base tablecloth is a plain mauve pink one but I jazzed it up with a pink and gold dupatta/shawl I had that had beautiful lotus motifs on it.
Charger plates - I have a full set of copper and brass gold chargers that I use for festive occasions. I use the copper charger here to give it a slightly different yet similar to the color scheme metallic element.
Dinner Plates - I love collecting antique dinnerware. I used two sets here - one is a vintage Haviland set and the other one is a vintage Martha Stewart Hydrangeas pattern set. I source a lot of my vintage dinnerware from Etsy, Replacements.com and my neighborhood antique store.
Napkins - all these napkins in this table setting are from Etsy.
Small Katori - a small katori or a bowl is a necessity while hosting Indian dinner parties. There is at least one dal or any other saucy curry that will be served in this bowl. This katori is from my Kansa Thali set.
Flatware - I dished out my fancy silverware with 24 karat gold accents on it for this special occasion. The silver and gold in this toned down all the other gold accents on the table.
Centerpieces - I used a silver vase from Good Earth to hold some pale pink roses, a couple of small brass urlis and a few brass bowls to hold some fresh lotus flowers that I managed to source here and brass candle stands from Nicobar to hold blush pink taper candles. I also scattered some stone lotus shaped tealight holders that I sourced from Etsy and had pink tealight candles in them.
Shop my Diwali dinner table décor from here

It's really just all the little elements that just come together to create this cohesive set up that is elegant, classy and festive for Diwali.
I hope you all have a fun and safe Diwali this year!