A guide to school lunch packing for busy parents from a busy parent. Easy ideas and hacks to make school lunch packing easy, when you are tired of PB&J. These lunch ideas are easy, wholesome, balanced and there is something in there for all families.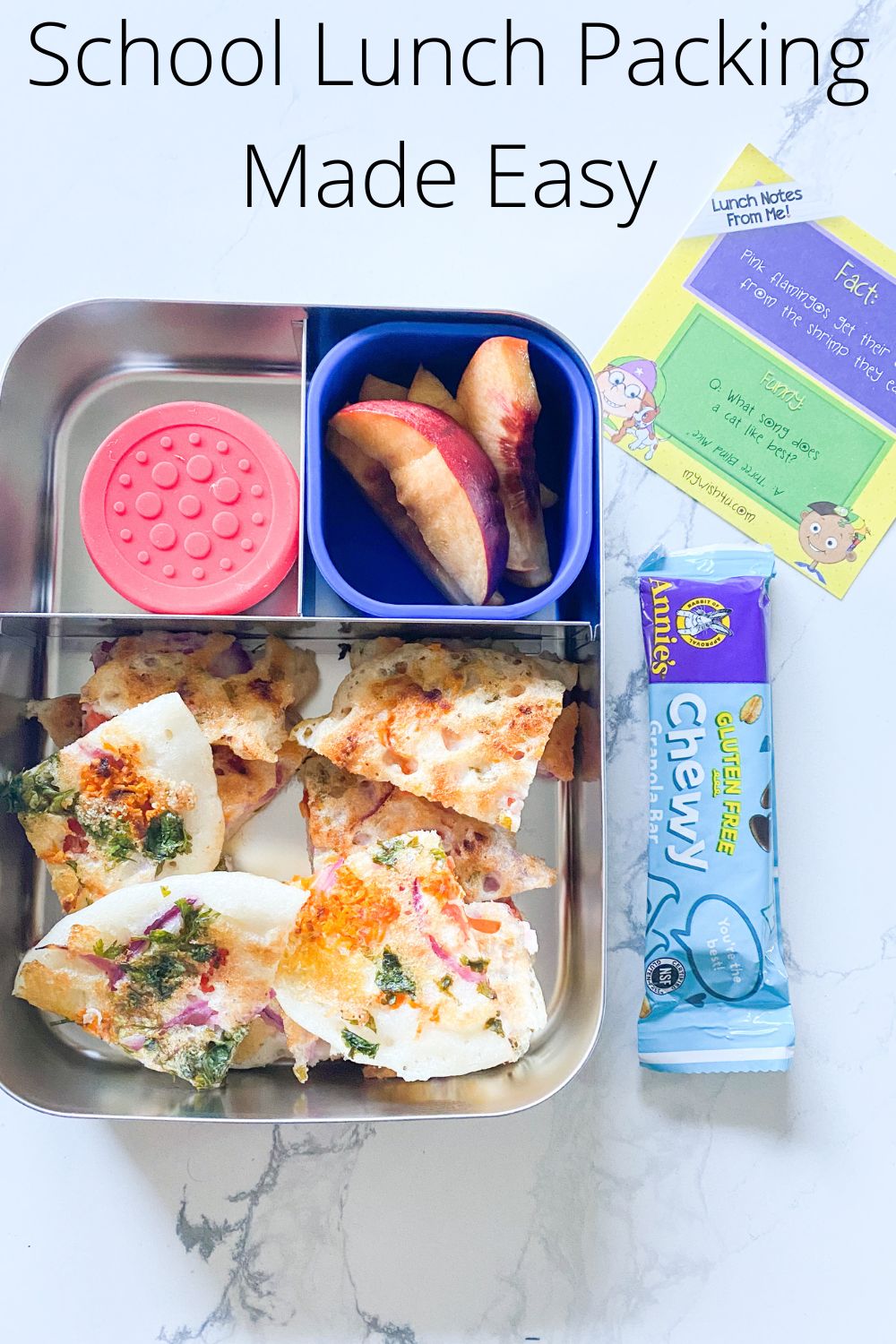 We all know that it is so easy to get overwhelmed with what to pack for lunch. Being a parent means, more than half your time, you are feeding your family. Whether it is thinking of what to make, shopping for groceries, prepping dinner, making meals, making sure your kids eat the meals, it takes up a lot of time everyday.
In this post, we will go through
Some hacks to make school lunches fun with little to no effort.
A list of various food groups for lunch boxes, so you just pick one from each. Easy peasy.
Some ideas of packed lunches, from what I have packed for my son in the last several years.
Tips for school lunch meal planning and packing.
Hacks for fun school lunches
Make it look interesting
Half the effort towards a lunch that will be eaten (mostly) is to make it look fun. Cookie cutters come to my rescue whenever I have to do this.
A simple sandwich (even a PB&J) will look more appetizing to the kids if you make it into the shape of a star or a dinosaur or a Mickey head. You can do this with anything, not just sandwiches. 
Some lunch items where you can use a cookie cutter to make it into fun shapes are pooris, rotis, sandwiches, cheese slices, fruits, pancakes, dosa, waffles etc.
If not a cookie cutter, then make them look different than they usually look. Make rolls of dosa, rotis or tortillas and slice them up to about an inch thick.
Use accessories like little fruit picks to add to the lunch items. Googly eye fruit pick can make a mandarin orange silly. Planet fruit picks can make a sandwich look like space. You just have to buy one or two sets and have fun with them.
Make use of the change in season or a holiday to get creative. These lunch box ideas for Valentine's Day is an example.
Make bite size portions, if possible
We all have been to school and know that we wait for recess and lunch to finally sit with our friends and talk or shove down the food quickly so we can go play for sometime. Our kids are no different.
Making lunch items to be bite sized makes it easier for the kids to put into their mouth, without having to mix or tear or cut up anything. Chances are, if they see they have to do extra work, they may just not do it.
Even if it is a sandwich, sometimes more gets eaten if you cut it up into four squares. Even if they don't eat the whole thing, at least half of it will be eaten.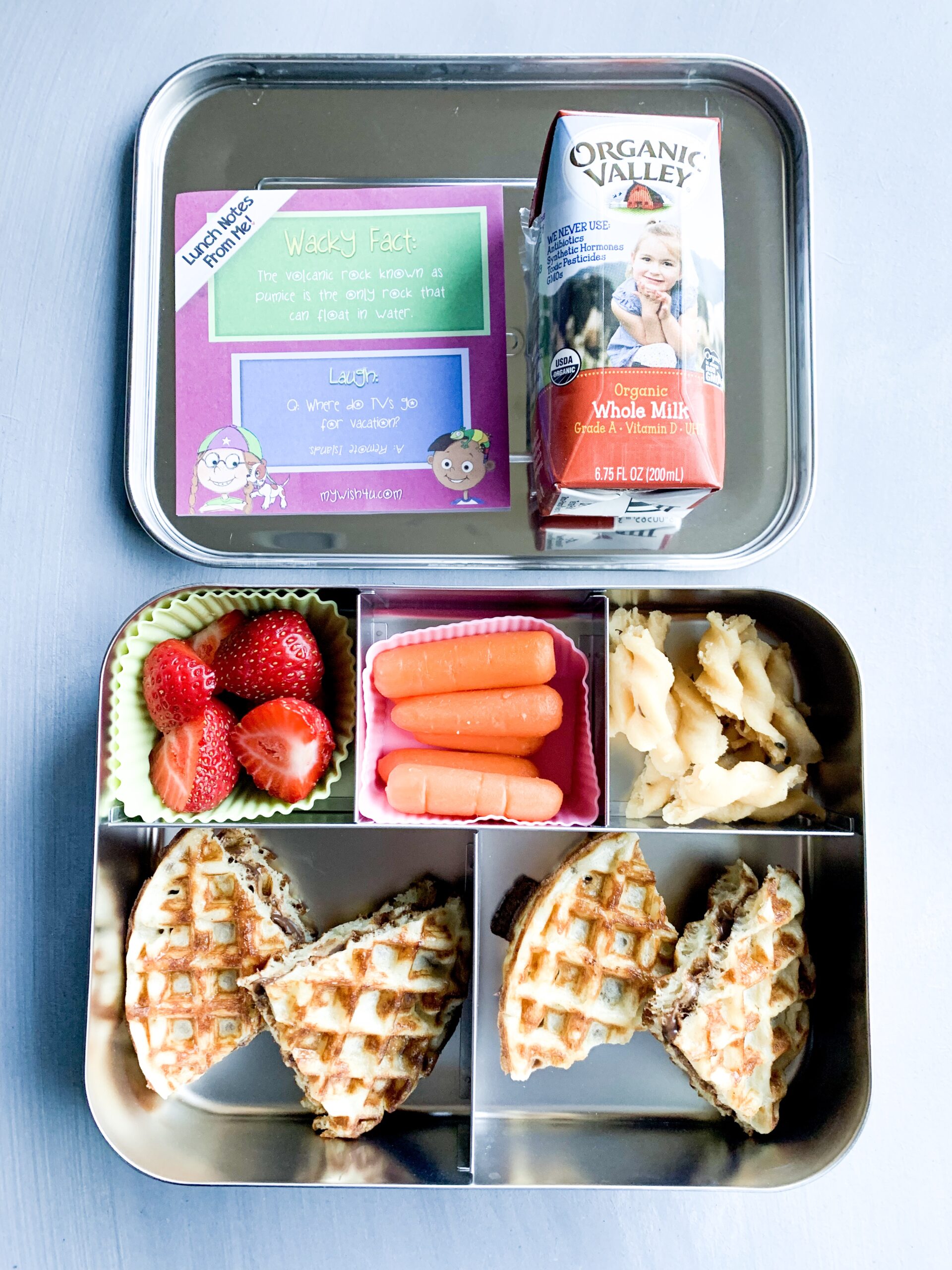 Have choices
Depending on your kids and how they eat, have choices in their lunch box. Mix and match a few things that you know for sure they will eat, with something they may be a little hesitant about.
You can also mix and match sweet and savory, so they have a choice there as well.
For some kids, too many choices get them overwhelmed. Maybe just a sandwich is a good idea here.
You know your kid the best, or even if you are learning about how they would eat lunch at school by themselves, try different options and see what works better for them.
Tips for school lunch packing and meal planning
I am going to throw a bunch of ideas here, because we all know that there is no one thing that works for all families or even all days / weeks for any family. Feel free to take what you want from here and see how you can make it work for you.
I dont meal plan every single school lunch of the week. What I do is have 3-4 ideas ready for the week and buy groceries accordingly. Depending on how busy the evening was or how busy the morning is, and how the schedule for the kid is, I pick from one of these.
Use dinner leftovers without guilt. It's ok if they are leftovers, pack them up for a school lunch. No one needs to pack every single school lunch from scratch.
Also, please use frozen foods if you want. I pack frozen waffles, parathas, chicken nuggets etc without any guilt. They are brands that we love, trust and are good for us, so there is no reason to feel guilty that you are not packing a freshly cooked hot lunch. Of course, heat up the frozen food and then send it, that goes without saying.
If your school has the facility to buy school lunches, plan for that as lunch for one day of the week. Take that break, even if it is one day. Our school district publishes a monthly menu, and V has a few favorites, so we go through the school menu together and he decides which lunch he wants to get.
Prep as much as you can the night before. I pack all the extras, like fruits, cheese, veggies or a treat, the night before and keep it in the refrigerator. Anything that needs to be warmed up in the morning, I portion it and put it aside. So, the only thing you have to do in the morning is warm that one portion and add it to the lunch box.
Fill and pack water bottles, spoons/ forks, napkins, snacks etc and keep it in the lunch bag, the night before. The less you keep for the morning rush time, the less stressed you will be.
This does not fall right into the category of meal planning, but do discuss what lunches you are planning for the week with your kids. This can be on the weekend or the night before. When they know what to expect in their lunchbox, I feel that my kids are more likely to be receptive to the meal and eat better.
Prep your thermos before packing hot lunch in it. Food stays hot longer that way. Before you heat up your food, pour boiling water in your thermos and keep it closed. Don't tighten it all the way, as you don't want to drop hot boiling water on you while you try to open it. Just place the lid on top. When food is heated up, discard the water and add the hot food immediately and close the lid well. Prepping your thermos like this makes sure that the cool stainless steel walls of the container are warmed up already and won't absorb any heat from your food, leaving it less than warm.
If you live in a particularly warm place and are worried about keeping food fresh, use ice packs. Toss them in the lunch bag along with your lunchbox. If for some reason, you cannot find your ice pack in the morning, always have a few yogurt tubes in the freezer, pop one of it inside the lunchbox or in the lunch bag. It will thaw by the time it is lunchtime.
School Lunch Packing List
Here is a printable list to print and stick to your refrigerator or pantry. When planning for school lunches for the week, pick 4-5 from each category in the list and make sure you have those in the refrigerator and pantry. Mix and match in any fashion to make a balanced meal for your kid.
Printable list can be found here
Snack can be packed at your discretion. Or it can be one from this list as well. Here are our favorite ready to go, single serve packs of snacks, most of which are wholesome and organic all put together in Snack Packing Made Easy
Ideas for school lunches