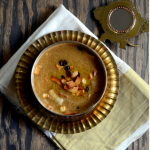 Print
Aval Payasam ~ Beaten Brown Rice (Poha) Pudding with Jaggery and Coconut Milk | Kerala Sadya Recipe
A Kerala Sadya Recipe - Aval Payasam - Delicately sweetened with Jaggery and made creamy with coconut milk, this Aval Payasam is a delicacy and a wonderful addition to your sadya recipe.
Brown Aval / Beat Brown Rice Flakes / Poha - 1 ½ cups

Crushed Jaggery - 2 to 2 ½ cups

Coconut milk - ½ can

Powdered cardamom - 1 tsp

Ghee - 1 tbsp.

Broken Cashew nuts - 2 tbsp.

Copra / Dried coconut pieces - 2 tbsp.

Golden Raisins - 1 tbsp
Wash the aval well with water. Drain the water keeping just a little left. Let the aval soak in that.

Heat a heavy bottomed pan with ¼ cup of water in it. Add the jiggery to it and let it melt over medium heat.

Once melted, add the soaked aval to this and mix well.

Pour in the coconut milk and add the cardamom and switch off heat.

In a small saute pan, heat the ghee and add the cashew nuts, copra pieces and raisins to it. Let the cashew and copra turn golden brown and let the raisins swell up.

Pour this into the payasam mixture. Mix well and serve warm or cold.