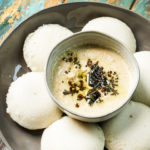 Print
Coconut Chutney
Easy to make, simple and delicious Coconut Chutney, that is the perfect accompaniment to most Southern Indian breakfast dishes.
For the Tadka / Tempered Seasoning
Grind together the coconut, chillies, tamarind and salt with a tablespoon or two of water in a small smoothie jar or the traditional Indian blender. The water is just to get the blender started.

Add about a ¼ cup more water, a little by little to get the right creamy consistency.
For the Tadka
Heat the coconut oil, add the mustard seeds and let it splutter. Add the dal and curry leaves to it.

Pour it over the ground coconut mix.

Mix and serve right away.
Use fresh coconut ONLY. It makes all the difference in the world. Freshly frozen shredded coconut is perfectly fine. You can get it from the freezer section of any Indian grocery store.
If using freshly frozen coconut, break off as much as you want and warm it in the microwave for 30 secs. This makes sure the oil from the coconut is not separated and helps grind the coconut better to make a smoother, creamier chutney.
I love using a combination of Thai green chillies and dried red chillies in my coconut chutney but you can use just the Thai green chillies, if that is all you have.
Coconut oil is preferred for the tadka / tempered seasoning. But use any high heat oil you have.
Calories:
369
kcal
|
Carbohydrates:
26
g
|
Protein:
2
g
|
Fat:
30
g
|
Saturated Fat:
26
g
|
Sodium:
269
mg
|
Potassium:
152
mg
|
Fiber:
4
g
|
Sugar:
21
g
|
Vitamin A:
95
IU
|
Vitamin C:
55
mg
|
Calcium:
17
mg
|
Iron:
1
mg