Hello and welcome to Cooking Curries!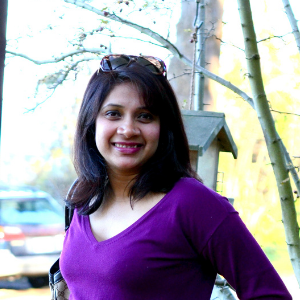 I am Manju Mahadevan, a busy mom to two school aged kiddos - one son and a daughter. I am a vegetarian who is married to a meat-a-holic. I moved to Seattle in late 2007 before which I lived in many cities pretty much all over Southern India. I grew up in a moderately traditional TamBrahm (a community in South India) family and was raised to be a vegetarian. Vegetarianism then became a part of my life by choice. When I met my husband in the early 2000s and came to know of his love for all things edible, I knew that sooner or later I will learn to cook meat. That again is by choice. I love feeding good food to people and nothing brings me more happiness than when I see them enjoy it.
As for feeding myself, there are times when I crave a dish or just a flavor or just something as simple as 'it needs to be savory or sweet" and I let me indulge myself.
I have been cooking since when I was a young teenager and learnt all that I know about basic cooking techniques and a lot of South Indian recipes from my Paati (maternal grandmother). I wanted to learn to make more recipes outside of the realm of what my family cooked. So my Amma bought me my first cookbook at the age of 16 and I loved cooking from it. I cooked everything from scratch and put together a dinner party for 6, when I was 18 years old and I have never stopped since.
I love pampering my family with elaborate looking yet easy to put together weeknight dinners and weekend brunches. There is pretty much nothing that I don't include in the menu for my family and that has helped us raise two pretty good eaters.
I love hosting and entertaining family and friends. Even for a casual get together with friends, I like to set up a nice dinner table with china that I have carefully collected and curated over many years.
I believe in eating good, clean, real food that is made with real ingredients and fresh produce. Anything that is too much processed just puts me off. The day I started reading the ingredient labels was the day I decided to make our food as clean as possible and make it from scratch.
Yes, there is the occasional packaged food that we do end up consuming, but its a very very small percentage of what we eat overall. We made the decision to switch to organic as much as possible, several years ago and have been adding to the list as the years go by and as much as we can afford to. Knowing that I am making and feeding my family good food gives me the kind of joy and peace that nothing else can.
All the recipes here are tried and tasted in my kitchen and those that are not my own recipes have been given due credit. Some of the so-called "traditional" recipes may differ from what some of you may know, but that is what I grew up seeing and is my definition of "traditional". You may feel free to disagree with me, but please be nice about it. Rudeness will be plainly ignored!! Please ask for permission if you want to use any of my photographs as I have put in a large amount of time and effort into making them as you see it. Also please link to Cooking Curries if you try any recipes from here.
Will Cooking Curries have only Curry recipes or Indian recipes?
No. Cooking Curries will be all recipes that I make at home to feed my family and friends. Being of Indian origin, there will definitely be a lot of that influence in the way I cook and I always love to experiment by combining various different ingredients to see what comes out of it. I am more of a global desi (desi = someone of Indian origin) when it comes to cooking.
The unavoidable question - What exactly is Curry?
If you just search on Google or look up on Wikipedia, there are several entries on the origin of curry and how the British reinvented it into what is now commonly known as a curry, usually made with a "curry powder". Honestly, the first time I even heard of or saw "curry powder" was after coming to the US and it tasted as a very mild blend of some of the spices that we use in Indian cooking and definitely not something I had ever tasted before. In India, there is no one curry powder that is there to make all the "curries" we make. In some curries, there is no kind of curry powder added to it. It will just be a simple sauce spiced with a little cumin and chilies and thats all.
For us, mostly, everything that has a sauce base of any kind is a curry. Some even call some of the dry vegetable / emat dishes also a curry and rarely is the word curry used as a suffix or prefix to the names of these dishes. Usually it is just the name of all the main vegetables or meat in the dish - like Aloo Jeera or Methi Malai Mutter or a kind of preparation with the main ingredient in it - like Okra Sambar or Radish Sambar ( Sambar is a preparation with a tamarind sauce as a base spiced with a unique combination of spices, usually called Sambar powder) And for us, Aloo Jeera is a curry, so is Okra Sambar. I hope I am going somewhere with all this explanation 🙂
We also have different spice powders (curry powders) that we use for different dishes. From the most commonly used one like Garam Masala, Chat Masala, Chole Masala to pav Bhaji Masala to the regional ones like Sambar powder, Rasam powder, Puliyogare Masala and so on and so forth.
So, pretty much what I make in my kitchen, that is Indian, is a curry of some kind, even if it is not called so. And that is why Cooking Curries.
You can follow more of what I do outside of the blog and say hello to me here:
Instagram - @CookingCurries