Moist and tender chunks of lamb in a spicy rich curry sauce, all made easy in the Instant Pot. Make this Instant Pot Indian Lamb Curry at home faster than you can order a take out / delivery from your favorite Indian restaurant. This is also Whole30 and Paleo compliant.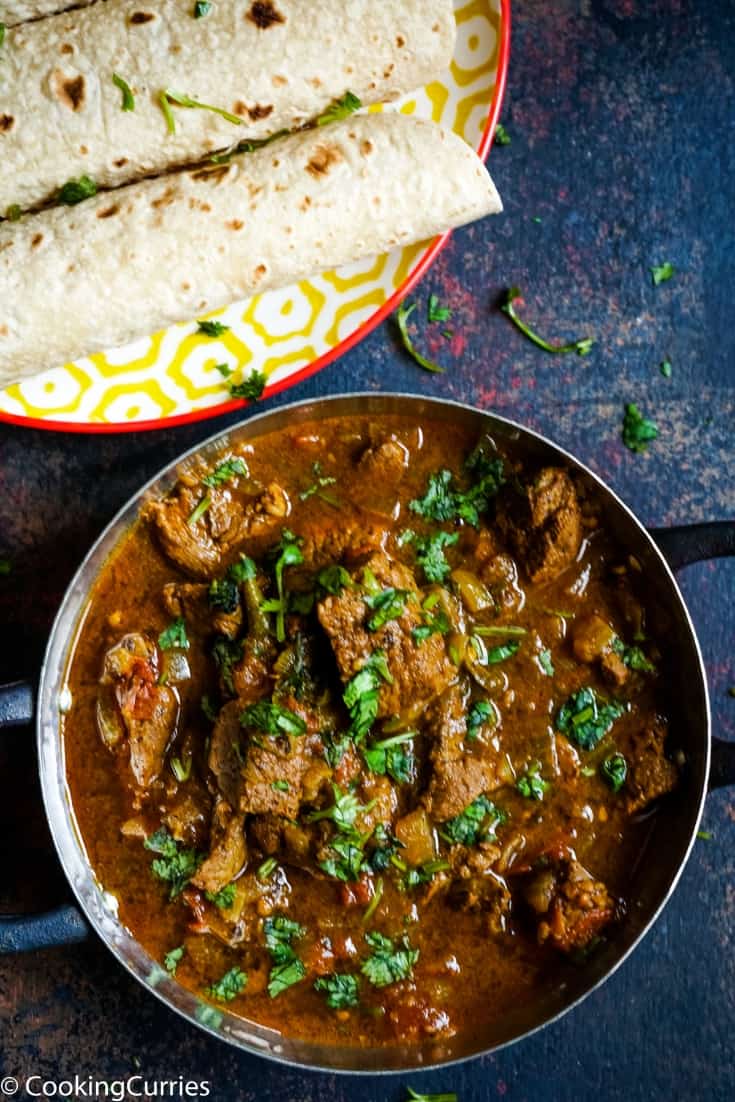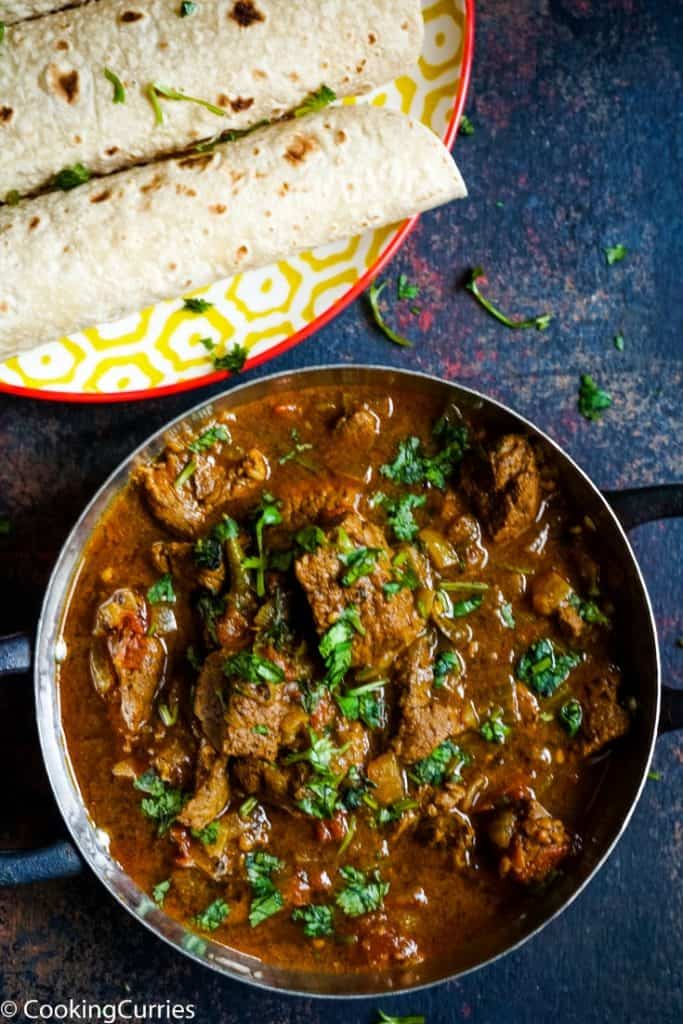 Mutton curry is what is more popular in most of India than lamb curry. I do buy mutton from our local Pakistani store sometimes but it is quite a lot in one package and it frozen. So, I would rather compromise on the authenticity of mutton vs lamb and get good quality organic lamb cubes for stew and use those in a curry, which is what I have done in this Instant Pot Indian Lamb Curry.
I am also trying to get the husband to follow a Whole30 kinda diet for a month or so, he is already trying to watch carb intake and is mostly out of sugar and I figured it will be a whole lot easier for me to take some help from the Instant Pot to make a lot of Whole30 compliant dishes for him, like this Indian Lamb Curry.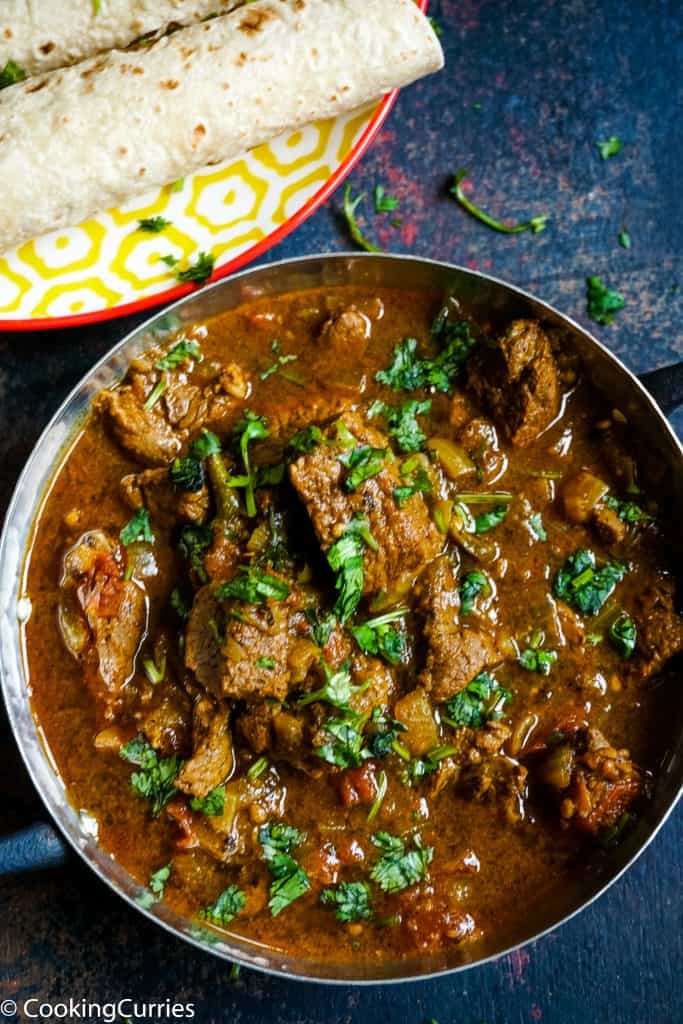 Is Indian Lamb Curry made in a pressure cooker traditionally?
Well, there are many recipes, where traditionally the curry is slow cooked so the meat gets really tender and absorbs all the flavors. Pressure cookers became an integral part of cooking in Indian kitchens later on and they were used to speed up the slow cooking process and also get the same results as with slow cooking. Chicken curries, mutton curries, dal, rice are all common dishes made in a pressure cooker.
And now, with the Instant Pot being a very common cooking medium in the kitchens these days, this is my version of an Indian Lamb Curry in an Instant Pot, cooked the pressure cooker way.
Can this Instant Pot Indian Lamb Curry be made with coconut milk or yogurt added to it?
Yes, of course. The coconut milk or yogurt will temper down the spices a little, if you are new to trying out spicy curries and will also make it creamier. But, we love the curry without any yogurt or coconut milk added to it. Do keep in mind that yogurt is not Whole30 approved, so you may want to stay away from that if you are making this curry when following the Whole30 diet.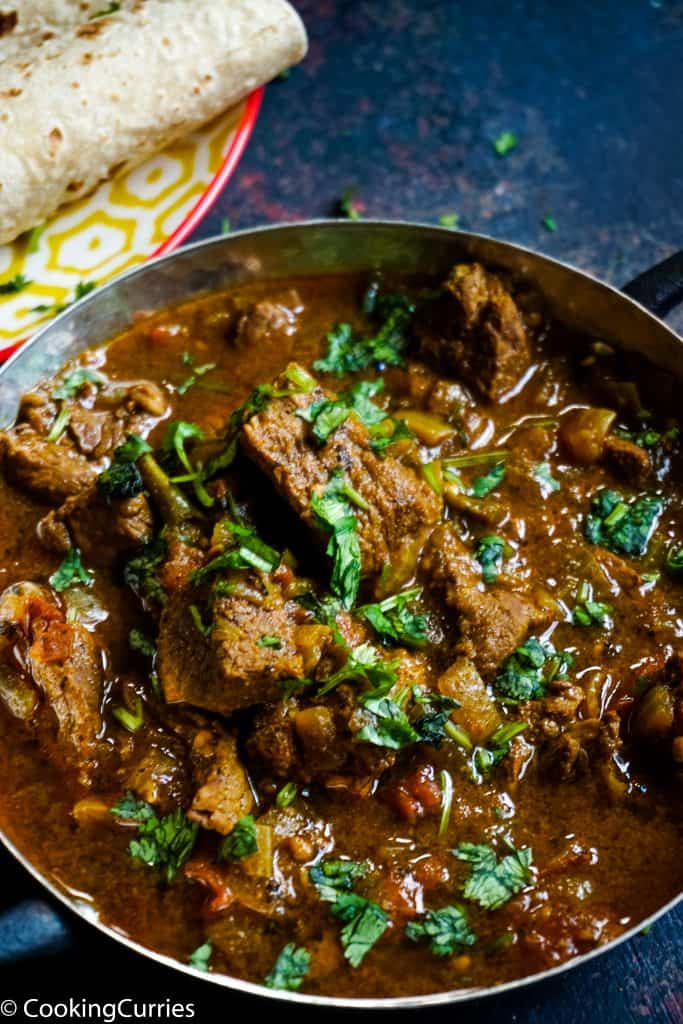 How to make the Indian Lamb Curry in the Instant Pot?
Making the Indian Lamb Curry in the Instant Pot is as easy as 1.2.3. steps.
Start with browning the onion, along with ginger, garlic and whole spices in the Instant Pot in saute mode. Add the lamb cubes and sear the meat to seal in the juices.
Now add the spice powders – turmeric, coriander, meat masala / curry masala powder. Add a little water, to deglaze the pot. Add tomatoes.
Set to 30 mins on High Pressure. Wait for pressure to release naturally. Open up and simmer on saute for a few more minutes, if it is a little too liquid-y for your taste. The water released will depend on the kind of meat you buy.
Garnish with cilantro.
What to serve the Indian Lamb Curry with?
You can serve it with basmati rice or naan or rotis or even regular bread or dinner rolls. If you are doing a Whole30 diet, then it is best to enjoy this as a stew with a side of salad.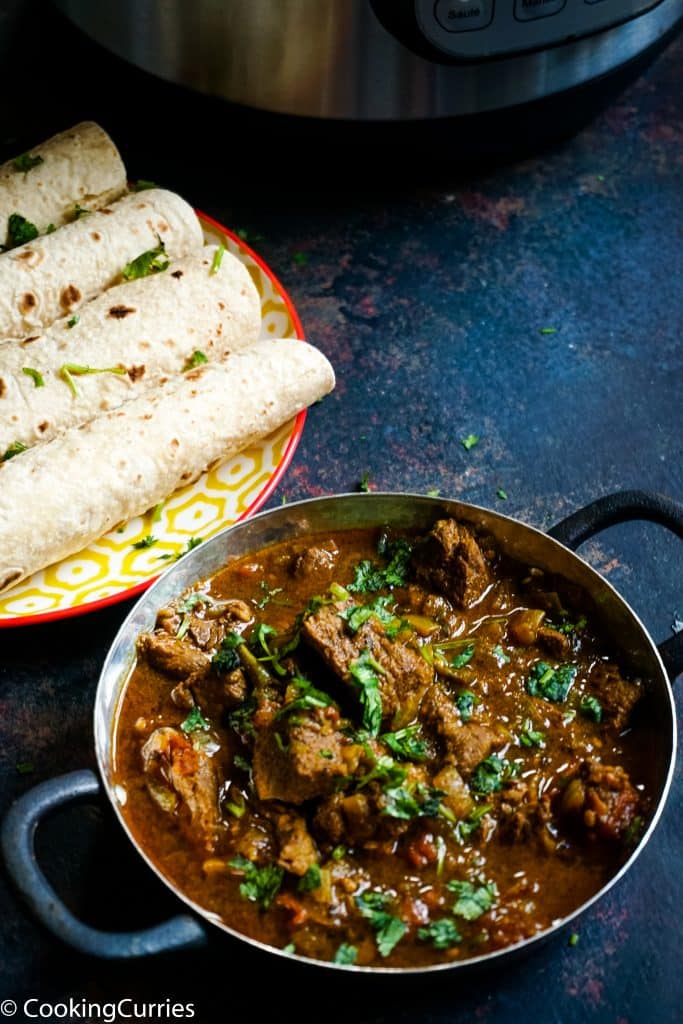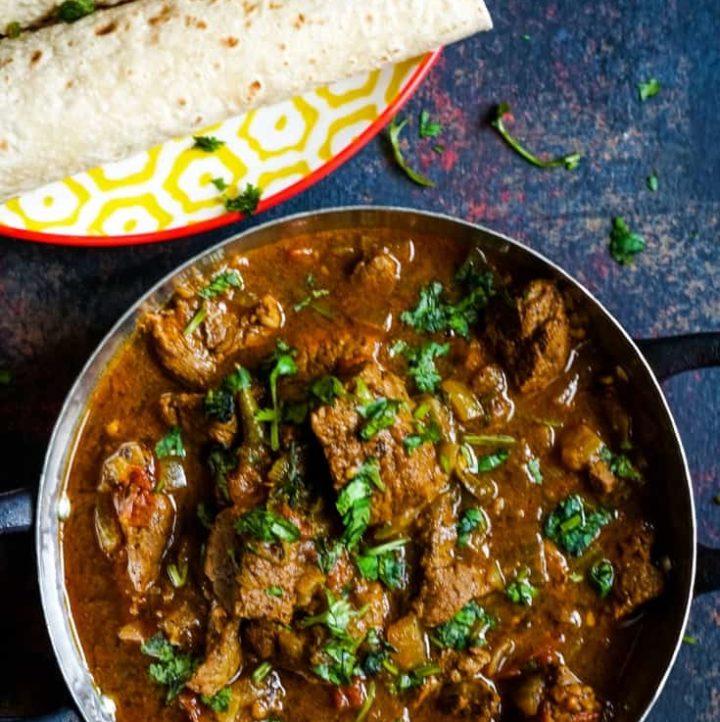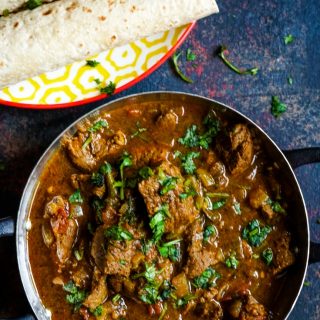 Ingredients
1

lb

lamb meat for stew

1

tbsp

avocado oil

1/2

tsp

fennel seeds

1

inch

cinnamon

1

tsp

whole black peppercorns

1

bayleaf

1

red onion

chopped

3

cloves

garlic

smashed

1/2

tsp

grated ginger

1/2

tsp

ground turmeric

1/2

tsp

ground coriander

1

medium

tomato

chopped

salt

to taste

1/4

cup

chopped cilantro

for garnish
Instructions
Roughly crush the cinnamon, cardamom, black peppercorns and fennel seeds with a mortar and pestle and keep aside.

Set the Instant Pot to SAUTE mode. Once it turns HOT, pour the oil into the pot liner. Add the crushed spices, onion, garlic and ginger. Saute till the onion softens and starts browning.


Move around the onion mix to make space for the meat and add the lamb cubes to the Instant Pot. Make sure most all of them are touching the bottom of the pan, so get a nice sear. After a couple of minutes, slowly turn the pieces so the other side of the meat can sear as well.

Once done, add a little water, about 1/4 cup and deglaze the pot. This is to make sure that the burnt bottom does not get even more burnt while pressure cooking is in progress or it will give a BURN notice on the Instant Pot.

Add the tomatoes, salt, turmeric powder, coriander powder and meat masala powder. Mix well.

Hit CANCEL / KEEP WARM button to get off SAUTE mode.

Set to MANUAL / PRESSURE COOK mode and adjust the time to 30 mins. Close the lid and seal the Instant Pot.


Once the pressure cooking is done, wait for the pressure to be released naturally. Watch for the little silver button next to the seal to go down. Move the seal knob to release and slowly open the Instant Pot.

The curry may seem a little watery, give it a quick mix to get all the onion mixture and meat to combine. If it still looks watery or you want it thicker, you can add some coconut milk or cook it in SAUTE mode for a few more minutes.

Garnish with cilantro and serve hot.