Heavenly little fried pancakes topped with sweet thickened milk poured on top of it, this Indian dessert of Malpua with Rabri is an experience in itself!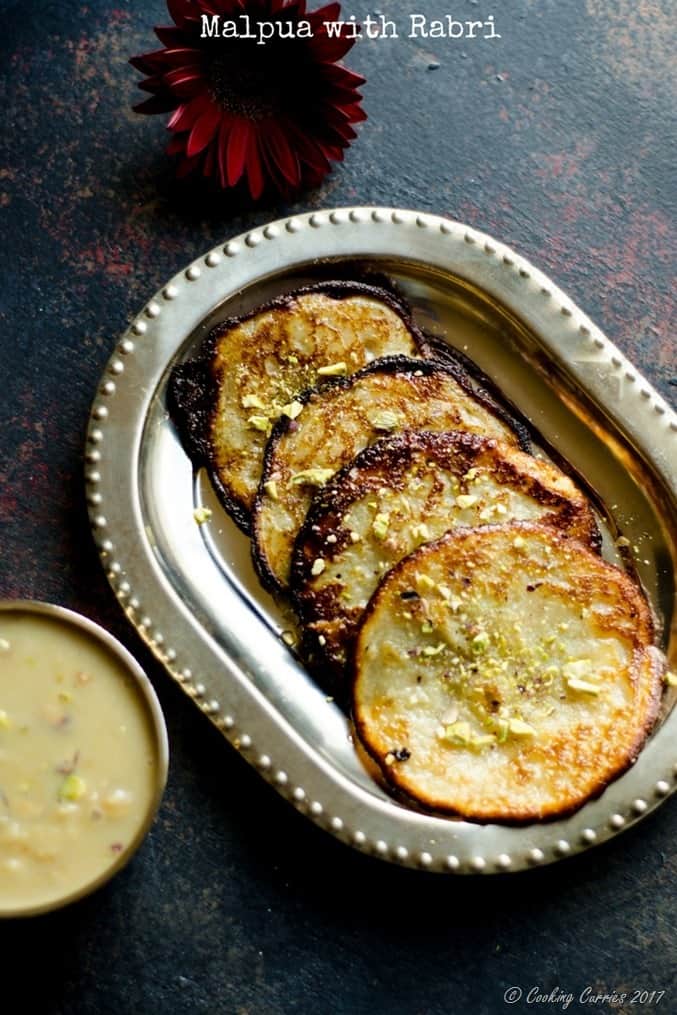 The first ever thing that comes to my mind when I want to tell you all about this most delectable dessert is that – it is not as difficult as you think it is. It is in fact, one of the easier Indian dessert recipes you can make!
My first experience eating Malpua with Rabri was at Rajdhani restaurant in Chennai, India. It is a Rajastani themed fine dining restaurant, where everything is served in a silver platter and you are given an almost royal treatment. And the best part is, it is all unlimited food. Not buffet style, but they keep serving you with whatever on the thali, how much ever more of it you want.
My brother and I loved (still love) going there! Our favorite part is when they serve the piping hot malpua (the pancake part) dripping with ghee and sugar syrup and spoon over the thick almost custard like rabri. It is sweet as [email protected]#$, but tasty as nothing else you have eaten!
Seriously, I am not exaggerating.
I think it has something to do with that hot and cold combo, both sweet things, you know! Like hot gulab jamuns or piping hot gajar ka halwa / carrot halwa with cold vanilla ice cream, or hot hot jalebis and this malpua with cold rabri.
I am being taken into dessert heaven as I write this! So, let me stop it here. You got the idea right?
Lets move on to the recipe then! You can find the recipe for the Rabri here.
Print Recipe
Ingredients
For the sugar syrup:
1/2

cup

sugar

3/4

cup

water

1/4

tsp

cardamom
For the Malpua:
1/2

cup

ricotta cheese / crumbled paneer

1/2

cup

all purpose flour / maida

1/4

cup

semolina / sooji

1/2

can

sweetened condensed milk

(8 oz or 1 cup)

1/2

cup

water

1/2

cup

oil / ghee
Instructions
For the Sugar Syrup
Bring the sugar, water and cardamom to a boil and let it boil for 3-4 mins and the sugar is all dissolved.
For the Malpuas
Mix together the ricotta or paneer, flour, semolina, condensed milk and water together to a smooth batter. The consistency should be like a pancake batter or a little thinner.

Heat about 1/4 cup of the oil / ghee over medium heat. Pour about half of 1/4 cup of the batter over it. It will spread out a little by itself.

Once the sides start to crisp and brown a little, flip the malpua over and cook for a minute or so.

Pick up the malpua with a tong and immerse it in the prepared sugar syrup. Proceed with making the next malpua. Once that is ready, remove the malpua in the syrup and place the new one.

Repeat with the rest of the batter, it should make about 14-16 malpuas. Serve hot with cold rabri on top.
Nutrition
Calories:
162
kcal
|
Carbohydrates:
18
g
|
Protein:
2
g
|
Fat:
9
g
|
Saturated Fat:
1
g
|
Cholesterol:
8
mg
|
Sodium:
23
mg
|
Potassium:
63
mg
|
Sugar:
13
g
|
Vitamin A:
65
IU
|
Vitamin C:
0.3
mg
|
Calcium:
51
mg
|
Iron:
0.3
mg
Recipe for Rabri 
Rabri Recipe
Creamy milk reduced to a thick pudding of sorts that is sweetened with sugar and made fragrant with saffron and cardamom, one spoon of this rabri is enough to make you forget about all the woes in this world!
Print
Pin
Rate
Ingredients
2

cups

whole milk

1/2

cup

heavy cream

1

cup

sugar

1

tsp

ground cardamom

1

tsp

saffron strands

2

tbsp

almond slices

1

tbsp

pistachios

, shelled and crushed
Instructions
In a heavy bottomed pan, preferably non-stick, heat the milk and sugar and bring to a boil. Move aside, the cream that floats on top, and stick it to the sides of the pan. Reduce heat to medium and add the heavy cream.

Keep moving the frothy cream layers that come on top, towards the side of the pan and keep stirring every few minutes or so. Watch it closely so as to not burn the milk.

If you want to see how much the milk has reduced in quantity, bring the heat to the lowest and the milk will settle down and you will be able to see. Ideally, you want the milk to reduce to at least half its original quantity.

Add the ground cardamom and saffron strands and cook till the milk has reduced to half its original quantity. Let it cool in the pan.

Once cool, pour it into a bowl and scrape off all the cream that you moved to the side and stuck to the pan. Add this to the rabri. Refrigerate for at least 30 mins to chill.

When serving, top with almond slices (I like to toast the almond slices a little) and crushed pistachios.
Nutrition
Calories:
1640
kcal
|
Carbohydrates:
233
g
|
Protein:
23
g
|
Fat:
73
g
|
Saturated Fat:
37
g
|
Cholesterol:
211
mg
|
Sodium:
262
mg
|
Potassium:
930
mg
|
Fiber:
3
g
|
Sugar:
225
g
|
Vitamin A:
2540
IU
|
Calcium:
672
mg
|
Iron:
1.2
mg