Tender chicken breasts slowly roasted in ghee with spices, brings out the best in the chicken and the spices to become this Chicken Ghee Roast, the ultimate way a chicken roast can be made!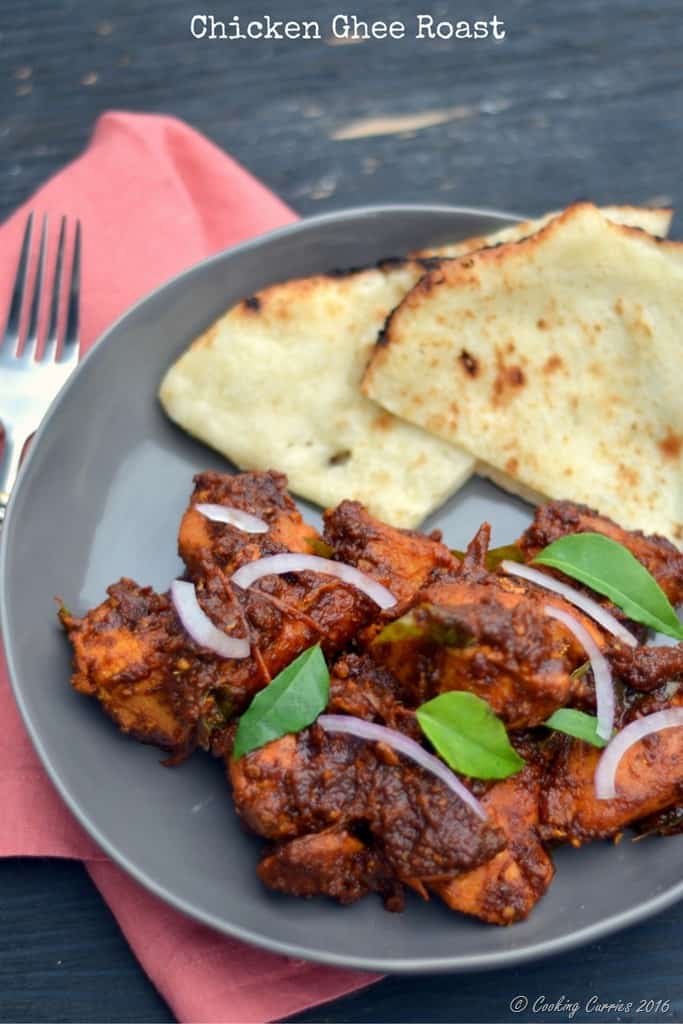 I asked AJ, what does comfort food with Chicken mean to him? Usually when you think of comfort food, you would think it is something simple, that you will want to eat anytime. At least that's what I thought. For AJ, it was something that brought him comforting memories. For him it was when he was in college and the hostel (dorm) where he stayed in, made this delicious chicken roast that they had with rice pancakes called Ari Pathiri. That was sort of the first thing that came to his mind and said the feeling of eating that or awaiting that meal after knowing that's what is on the menu was not comparable to anything else.
Well, so I decided to take that Chicken Roast to one step ahead and make it with ghee to make it a little extra special and extra comforting. Ghee was always something that was added to all our meals when we were little and we slowly turned away from it after growing up to be health conscious adults. Don't get me wrong, ghee is a natural fat with no processing but fat is fat and with something so delicious it is hard to control how much you eat of it. We do indulge in it sometimes though.
This ultimate comfort food of Chicken Ghee Roast is made with the help of Foster Farms Simple Raised Fresh Chicken Breasts. You know how I am an advocate of all things real, no added anything and local. Well, this fits it all. Foster Farms Simply Raised Fresh Chicken has no added hormones or antibiotics and is made right here in the Pacific Northwest. So it doesn't travel halfway across the country to get to me.
What other comforting chicken dinners can you think of to make for your family? Check out some other recipes here.
I cut up the breasts into small pieces and marinated them for about 20 minutes with a little salt, turmeric powder and cayenne. I then pan fried them with ghee till they turned nice and golden brown crispy on both sides.
While it was frying, I assembled my spices, pearl onions, ginger and garlic. I ground them all up into a smooth-ish paste after dry roasting the spices.
Once the chicken is done, drain them out on paper towels. Add some more ghee to the pan and add some curry leaves to it. Add the ground spice mixture and some tomatoes to it. Sauté for a while and add the chicken and add water. Add more salt. Let it cook till all the water evaporates.
Serve it hot with some rice or naan or rotis and revel in the satisfaction of making a deliciously comforting meal for your family, with ingredients you trust.
Chicken Ghee Roast
Author:
Prep time:
Cook time:
Total time:
Tender chicken breasts slowly roasted in ghee with spices, brings out the best in the chicken and the spices to become this Chicken Ghee Roast, the ultimate way a chicken roast can be made!
Ingredients
1 ½ to 2 lbs Foster Farms Simply Raised fresh chicken breasts
Salt, to taste
1 teaspoon turmeric powder
1 teaspoon cayenne
3 tablespoon ghee + 2 tbsp
8-10 curry leaves
5-6 Kashmiri Red Chillies, they are more for the color than the spiciness
1 inch piece of cinnamon
1 star anise
½ teaspoon fennel seeds
1 teaspoon black pepper corns
1 teaspoon coriander seeds
1 green cardamom
1 teaspoon ginger slices
3 cloves garlic
6-8 pearl onions, peeled
1 Roma tomato, sliced
more curry leaves and onions slices, to garnish
Instructions
Cut up the chicken breasts into 3 inch pieces and marinate them in salt, turmeric powder and cayenne for about 20 mins.
Heat the 3 tablespoon ghee in a saute pan and add the chicken pieces to it. Let it fry on each side for 3-5 minutes for a couple of times. Once they are golden brown and fried on both sides, drain them on paper towels.
Meanwhile, dry roast the spices - Kashmiri Dried Red CHillies, Cinnamon, Fennel, Star Anise, Cumin, Coriander and Cardamom, in low heat till they are all fragrant and slightly change color. Dont let them burn.
Grind them to a smooth paste along with the pearl onions, ginger and garlic. Add a little water if needed.
Add the remaining 2 tablespoon ghee to the pan and add the curry leaves to it. Add the spice mixture and saute for a couple of minutes. Add the tomatoes and more salt. Saute for 2 more minutes and then add the drained chicken pieces and some water. Let it cook down till all the water is absorbed.
Turn off heat and garnish with more curry leaves and some sliced red onions.
Dont forget to check out more New Comfort Food recipes here on Foster Farms Recipes