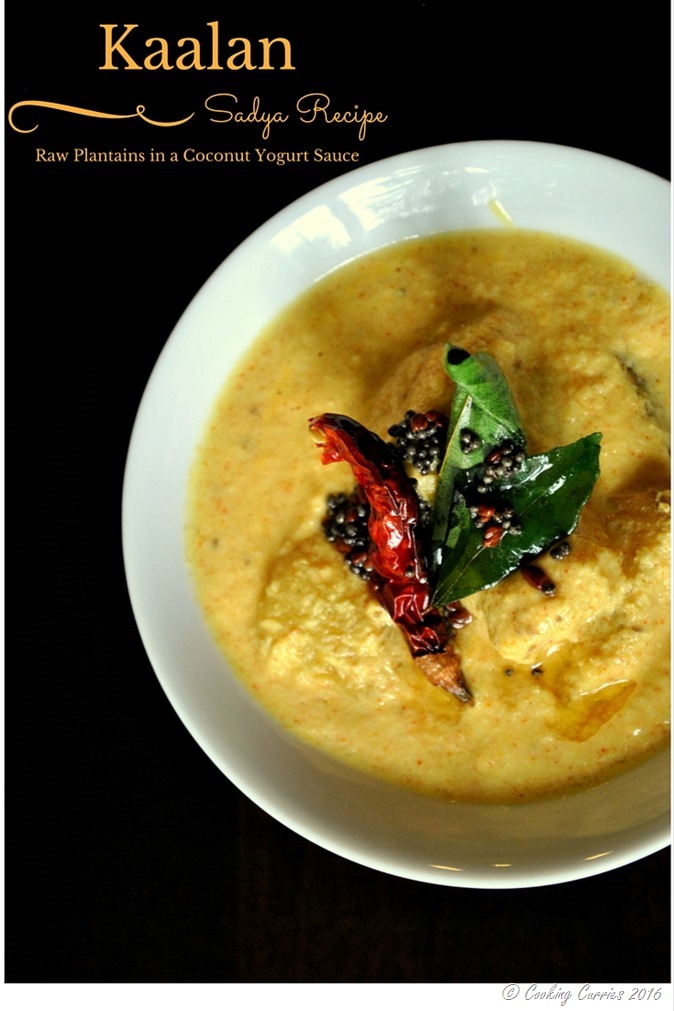 Kaalan was not something that was very commonly made at home, even though other similar preparations like Pulisseri and Mor Kuzhambu was a daily affair. I used to love the Kaalan that a friend of mine used to bring for lunch at school and also used to devour it at wedding feasts. But somehow it never occurred to me to ask Amma to make it at home – she would have, if I had asked her – i just somehow assumed it is not something we make at home! Silly, yeah! Kaalan is soo very easy to make and is an ultimate comfort food with some rice and any spicy vegetable stir fry on the side. Even though I have used plantains here a variety of other vegetables like cucumber, winter melon, yam etc can also be used.
Kaalan is also a very popular item in a Kerala Sadya.
Kaalan – The recipe
Ingredients:
2 unripe plantains – it is ok even if they are a little ripe, it will render a subtle sweetness to the dish – top and bottom chopped off and skin cleaned (not peeled) and cut into cubes
1 teaspoon red chilli / cayenne powder
½ turmeric powder
½ teaspoon coriander powder
¾ cup grated coconut
½ teaspoon cumin seeds
½ cup plain yogurt + ½ cup sour cream
salt, to tasteFor tempering:
½ teaspoon coconut oil
½ teaspoon mustard seeds
¼ teaspoon fenugreek seeds
4-5 curry leaves
2-3 dried red chillies
Method:
In a sauce pan, add about 1 to 1 ½ cups of water, plantains (or whatever vegetable you are using), red chilli powder, turmeric powder and coriander powder with the salt and bring to a boil. Lower the temperature to medium and let the plantains cook for a while. Let some of the water evaporate as well.  Grind together the coconut, cumin seeds and yogurt + sour cream to a very smooth paste and add it to the saucepan once the plantains are soft. Give it one quick mix and when it just about to come to a boil, lower the temperature to low and let it simmer for a couple of mins. Do not let it boil or else the yogurt will curdle. In a smaller saucepan, heat the oil for tempering and add the mustard seeds to it. Once the mustards seeds splutter add the rest of the ingredients for tempering. Pour them all onto the prepared coconut-yogurt gravy. Serve hot with some rice, veggies and pappadams.