Coconut, pearl onions and spices bring together the chicken in this spicy and delicious Malabar Chicken Curry. You can dip and slurp your way through this for you lunch and dinner with some rotis, appam or even slices of bread!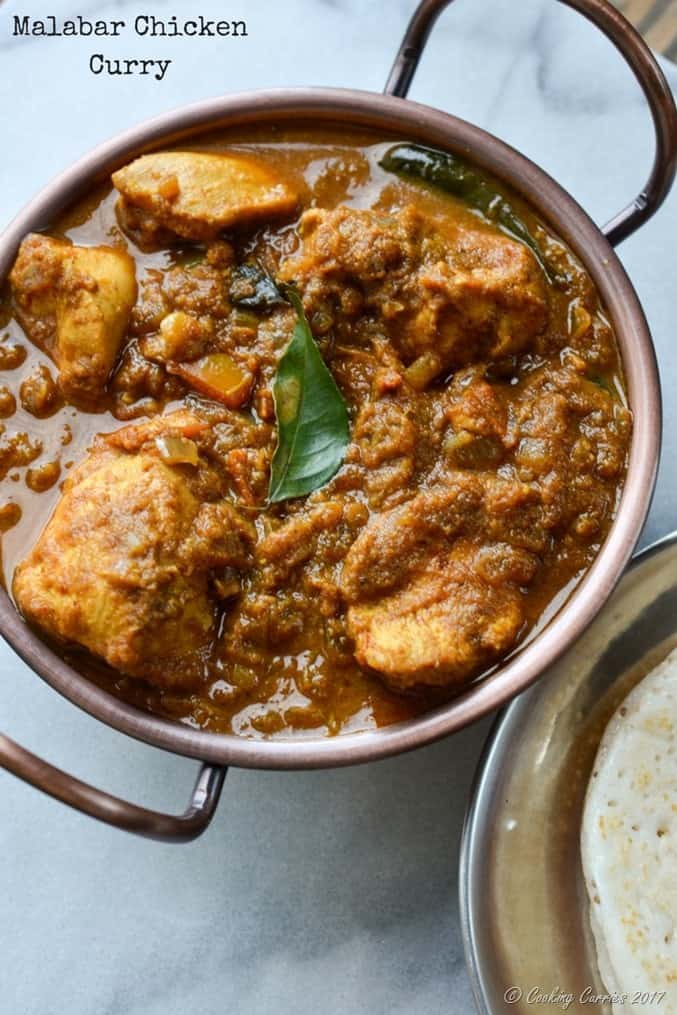 Kerala, a southwestern state in India has the most uniquely balanced demographic – the north ⅓ of the state, the Malabar region has a predominantly Muslim population, the central ⅓ of the state is predominantly Christian with the exception of some parts and the southern ⅓ is predominantly Hindu population. Overall, the malayalee cuisine is a unique combination of the core coastal essence of using coconut and a lot of seafood in the cuisine, while differing a lot in the spices used and method of cooking, in the various regions based on the demographics of the population.
If you could just take a simple Chicken Curry, there are at least 10 different ways of making a Kerala Style Chicken Curry. This is one such recipe from the Northern Malabar region of the state aptly named Malabar Chicken Curry flavored with pearl onions, fennel and coriander and made creamy with a slightly smoky flavor with roasted coconut paste.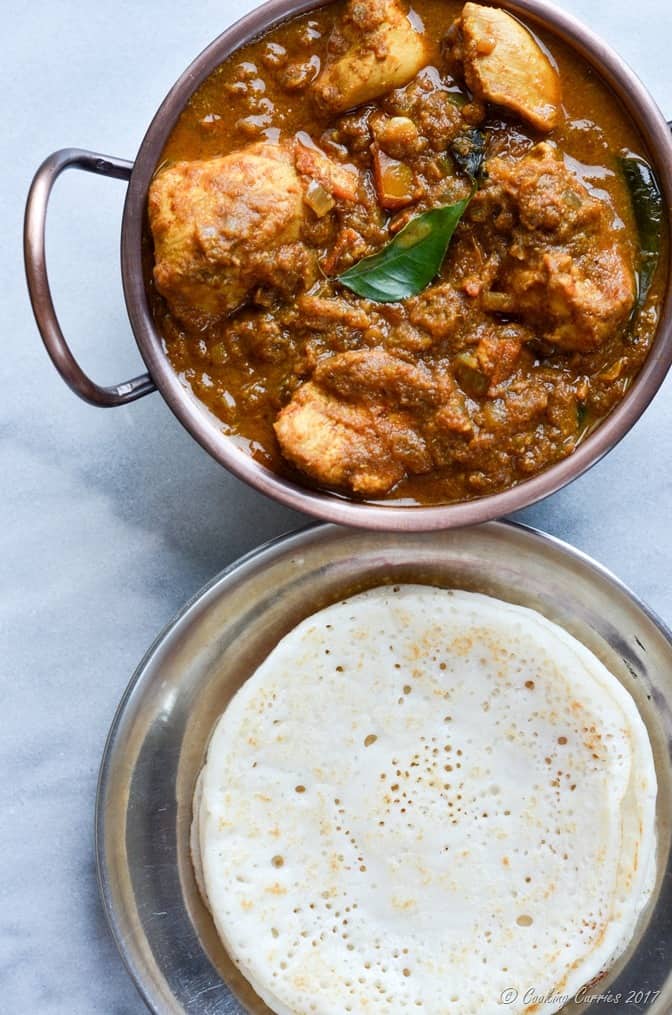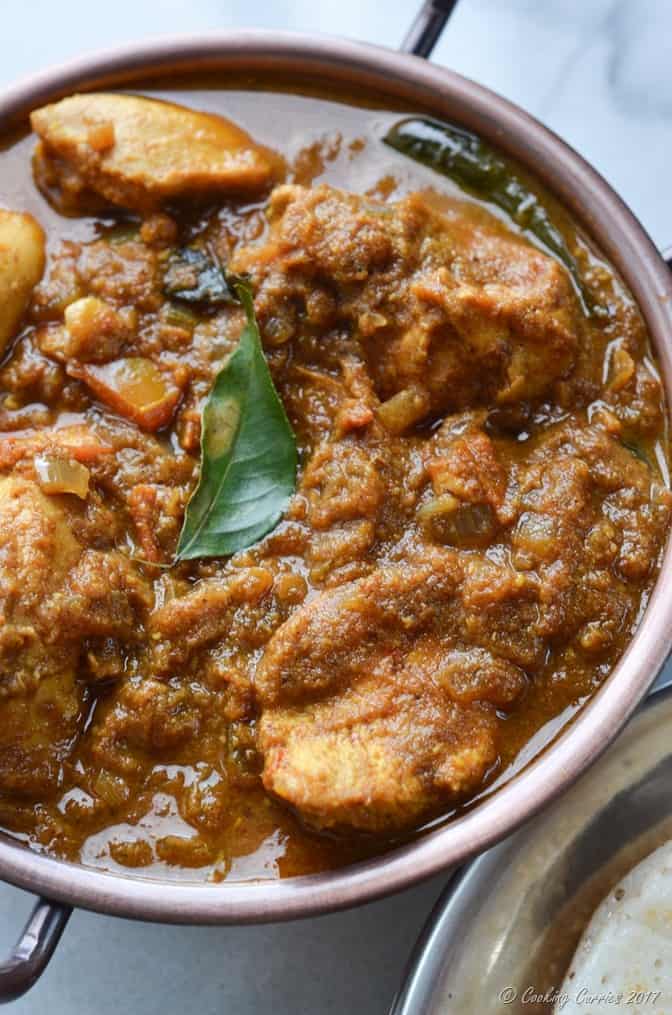 Malabar Chicken Curry – The Recipe
Ingredients:
1 lb chicken breasts, cut into 3 inch piece cubes
2 tablespoon oil
5-7 curry leaves
½ red onion
½ teaspoon turmeric powder
1 teaspoon garam masala
2 tomatoes
salt, to taste
½ cup water
To grind to a paste:
½ cup grated coconut (fresh or frozen, if frozen then thaw to room temperature before using)
5 – 6 pearl onions
4 dried red chillies
1 tablespoon coriander seeds
1 teaspoon fennel seeds
5 cloves garlic
2 green chillies
1 tablespoon sliced ginger
Method:
Peel and cut the pearl onions in half. Heat a heavy bottomed pan and roast the coconut, the pearl onions, red chillies, coriander seeds and fennel seeds over low-medium heat. Keep stirring every once in a while so as to not burn the coconut.
Meanwhile, chop the onions and peel the garlic.
Once the coconut and spices are roasted till the coconut is slightly brown, transfer to a plate to cool it. In the same pan, heat the oil and add the chopped onions. Add the turmeric and garam masala and let it sauté over medium heat.
Meanwhile, add the coconut and spices to a mixer / blender jar and add the garlic, ginger and green chillies. Add a couple of tablespoons of water and grind to a fine paste.
Add this paste to the onion mixture, add the tomatoes too and sauté for a few minutes till the tomatoes soften. Add the chicken pieces and salt and let it cook till the chicken lets out the moisture. Add enough water to cover the chicken and cook over low-medium heat, till the chicken is cooked through. Garnish with more curry leaves, if needed. Serve hot with rice, rotis or even slices of bread.