Tender Indian style turkey meatballs and creamy makhani sauce with tomatoes, onions, butternut and spices inspired by butter chicken, makes for perfectly spiced meatballs in a luscious creamy sauce that complements each other. It is a great make ahead recipe that is a crowd favorite at parties too. Scatter some warmed up naans on a platter next to it and you are good to go.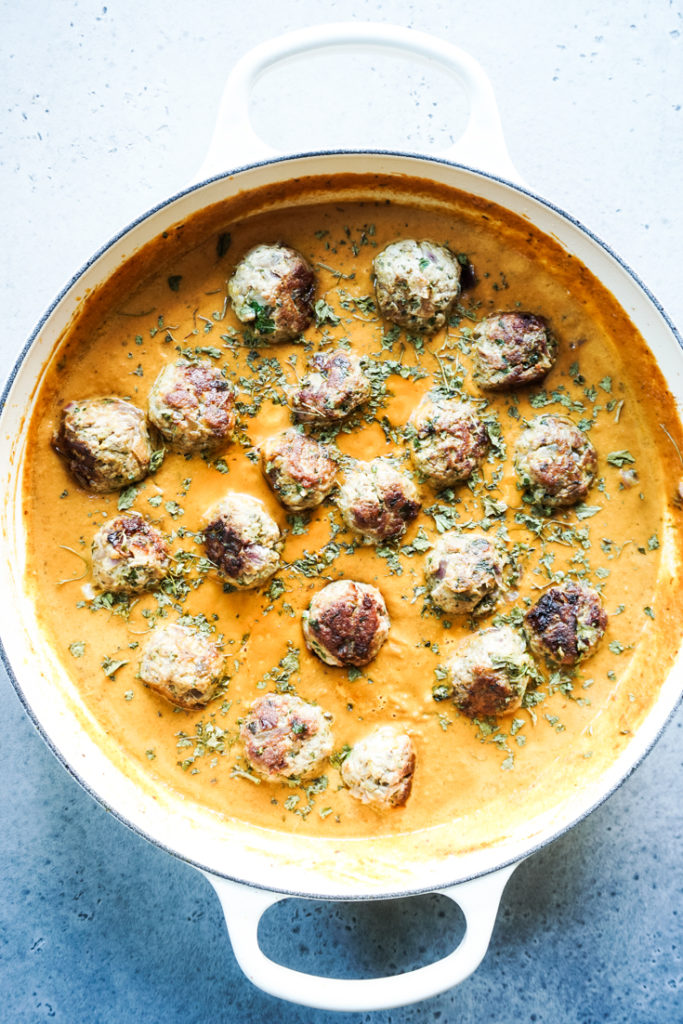 Delicious does not even begin to describe it. If you love Butter Chicken, this is a very similar recipe with butternut squash added to the sauce base to make it creamier and masala turkey meatballs instead of the chicken, which are just totally out of this world. I would recommend making a few extra meatballs to eat just like that.
This is one of those recipes that I am super proud of coming up with the recipe and making it and that too making it awesome-ly delicious. I must give the credit for the idea of the recipe to someone else.
In one of the recent Chopped episodes, the judges were competitors and they teamed up with their siblings to make deliciousness with the ingredients from the mystery basket. Chef Maneet Chauhan and her sister dished out these brilliant meatballs with ground turkey and used butternut squash in the makhani sauce, an amazing raita to go along with it and fried up some chard to use as papad.
After watching that episode, I just had to make that turkey meatballs in makhani sauce recipe. Of course, there was no recipe to go by and I improvised my lamb kebabs recipe to make the masala turkey meatballs and used the makhani sauce from my butter chicken recipe to make the sauce for this recipe.
What is Makhani Sauce?
Makhani sauce is a creamy rich sauce made with tomatoes, onions, butter and a little cream. It is the same sauce that forms the base of everyone's favorite Indian restaurant food, Butter Chicken or Chicken Makhani. Makhani means butter like, which is why the sauce is so creamy and almost soft like butter. Some also say, it means the dish has a lot of butter. I do both, I add butter to it and I make it a very creamy sauce.
I add soaked cashew nuts to my sauce to make it creamier. You can also skip the cream and make it dairy free by using cashews instead.
Why we love these Masala Turkey Meatballs in creamy Makhani Sauce?
The masla turkey meatballs are just perfectly spiced and is so full of flavor that you may wanna just eat them as it is. I always make extra just for that reason.
The sauce is so flavorful and creamy. It complements the meatballs very well.
This recipe is a crowd favorite and is easy to make for a crowd. It can be made ahead as well, making it easier for meal preps.
How to make Masala Turkey Meatballs?
Mix all the spices to the ground turkey
Set it aside in the refrigerator for 30 mins or so, while you make the sauce.
Make roughly lime sized balls.
Heat oil in a wide heavy bottomed pan. Cook the meatballs, adding them in a single layer without over crowding.
Remove and keep aside to be mixed to the sauce later.
How to make the Butternut Squash Makhani Sauce?
Sauté the onion, ginger, garlic and tomatoes in butter and olive oil, till they soften.
Add them to a blender jar along with some pre-soaked cashew nuts.
Blend to a smooth paste.
Bring this paste back to the pan and add the spices.
Add the tomato paste.
Add a can of butternut squash puree.
Mix well and let it cook.
Use some milk to thin out the sauce if it gets too thick.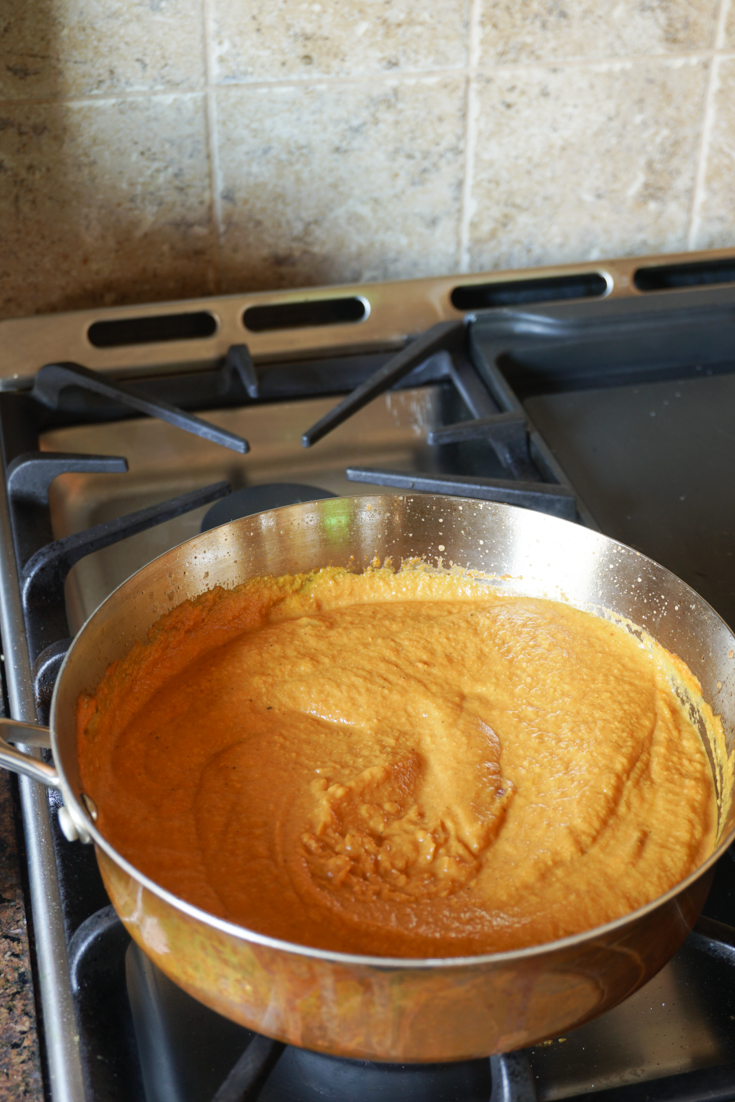 Once the meatballs and sauce are done, remove the meatballs from the pan they were cooked in.
Add the sauce to the pan over medium heat. Deglaze the bottom and sides of the pan by scraping with a wooden spoon. Let the sauce mix well.
Add the meatballs to this. Cover and cook for a few more minutes.
Recipe Tips
If you can, use dark meat for the ground turkey. It has a richer, deeper flavor that works well with the spices and the sauce.
Chilling the ground meat after mixing in the spices makes it easier to form the meat balls when cold.
Make sure the meatballs are not overcrowded in the pan when cooking them and they cook well till brown on all sides.
Serve over basmati rice, cauli rice or alongside naan or other crusty bread.
If you want the sauce to be even creamier, you can add some cream towards the end.
To make it dairy free, skip the butter and just use oil instead and you can skip the milk/cream and add some water instead or some coconut milk.
Try to use the dried fenugreek leaves / kasuri methi, if you can. It gives that succinct scent and flavor to finish the dish with. If you absolutely have to use something else, then cilantro is an option.
If you love this, here are some of our other favorite curries to try: