This post is sponsored by Sparkling ICE but the content and opinions expressed here are my own.
Summer means fun and what better way to have some fun than to make this summer mocktail that keeps you guessing!
From the time we got to know that Sparkling Ice has come up with a new Mystery Fruit Flavor in their line of drinks, we had to try it out for ourselves. The moment I told the kiddo about this and that we are gonna make a game out of it, he just couldn't wait.
I got a few Sparkling Ice Mystery Fruit Flavor drinks and their Lime Ginger one too to create a mix and match mocktail of sorts, that all of us could enjoy.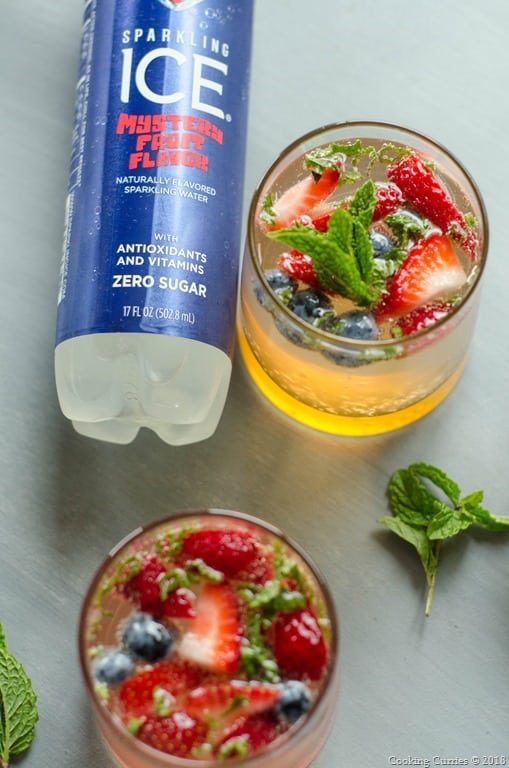 I opened the Sparkling Ice Mystery Fruit Flavor bottle when the entire family was around. All of us wanted to be the first to taste it, but we let the little guy have his turn first. He took a sip and immediately yelled out "Mango!!!". The "rule" for our little game was for everyone to taste first, guess in their mind and then say it out loud at the same time.
But, what were we thinking, with an over excited 5 year old!!
I really could not get Mango out of my head when I tried it and felt it tasted like Mango. And its summer, so Mango kinda makes sense too. The husband thought it tasted like Kiwi.
Well, anyway, I mixed it up with some Sparkling Ice Lime Ginger and added some blueberries and strawberries to it with some mint to make a fun mocktail that all of us could enjoy together as a family! Its not really any recipe per se, just a handful of berries and a little of Sparkling Ice Lime Ginger and Sparkling Ice Mystery Fruit Flavor.
Now, we just cant wait for the warmer days to be here to enjoy more of this. With the red and blue berries, this will be a great drink to make for a 4th of July get together as well, and extend the guessing game to our friends.
Are you ready to join the fun with us and win a little something by guessing the mystery flavor? Go get a bottle of Sparkling Ice Mystery Fruit Flavor for yourself, enjoy it and share your guess on Sparkling Ice Facebook page and / or Sparkling Ice Instagram page to gain an entry to the sweepstakes! So hurry now, and get your entries in! Use the #WhatTheFlavorSweepstakes when you share your entry.