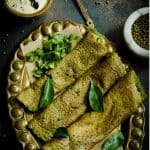 These almost instant gluten free crepes, Spinach Pesarattu, are power packed with green mung bean and spinach and can be enjoyed with a side of your favorite coconut chutney for breakfast, lunch, dinner or even a snack!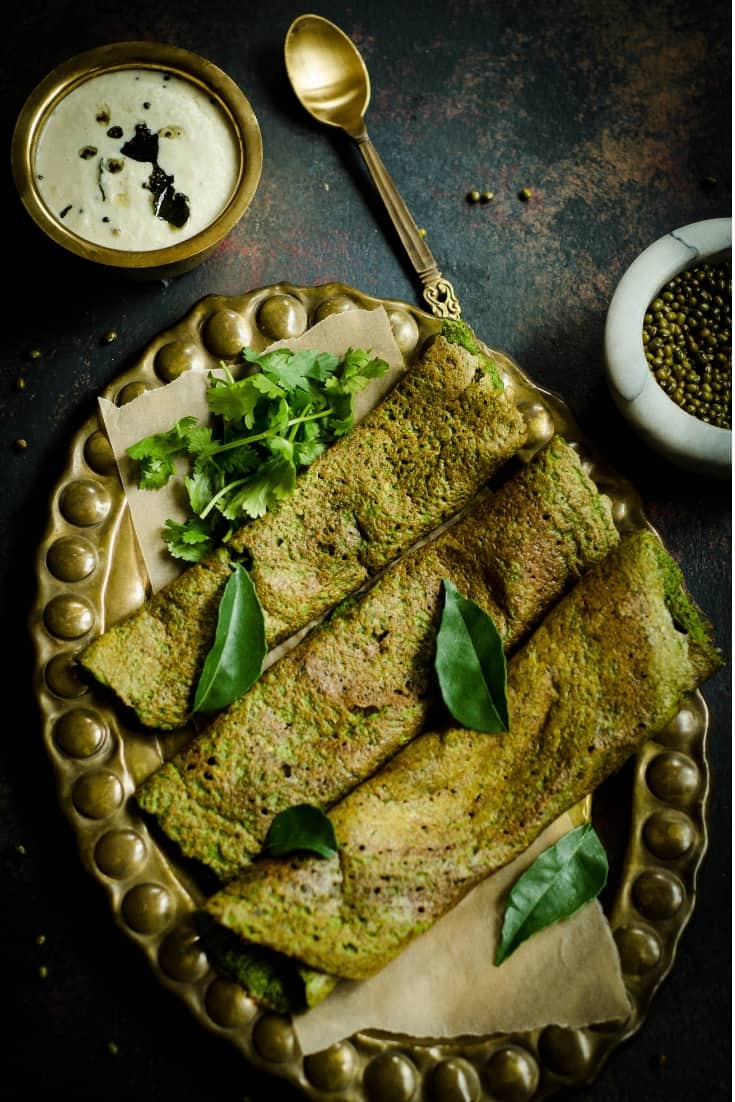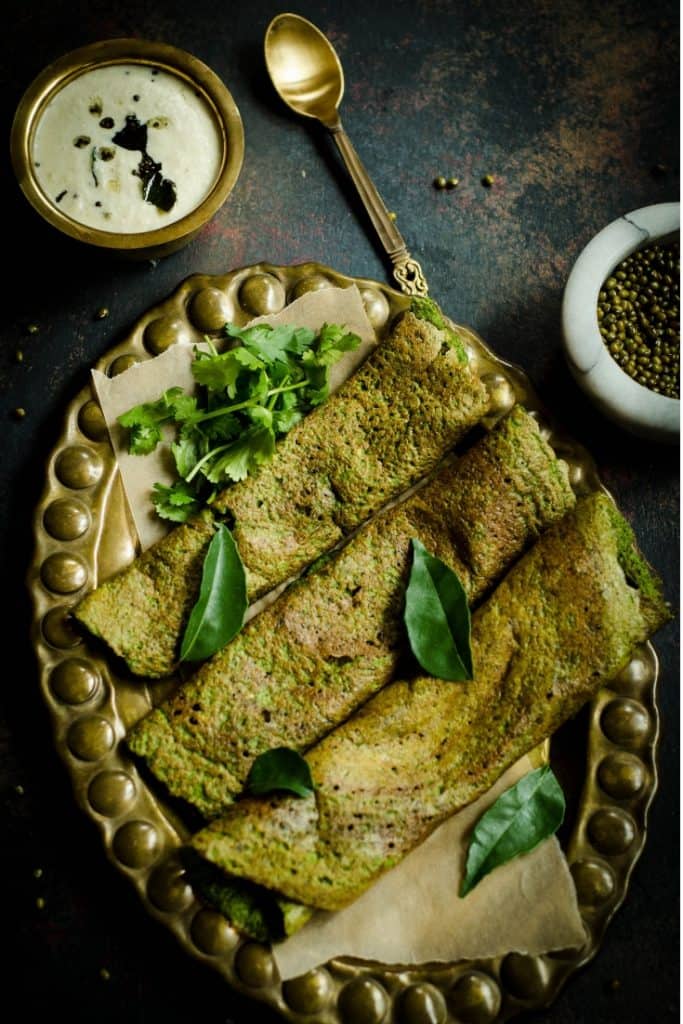 Dosas are the Southern Indian equivalent of pancakes. Technically they are like crepes, but they are made and enjoyed more like pancakes here in America. Dosas are made with fermented batter of rice and lentils (urad dal). Pesarattu is made with an almost instant batter that requires no fermentation and can be made in a few hours. Just soak some mung beans and the grind them with cumin, green chillies / serrano, cilantro and maybe garlic too for some extra flavor. I added a bunch of spinach to it to enhance the green color and also to add some more extra power nutrients to it.
I made this pretty regularly when I was diagnosed with gestational diabetes during my second pregnancy. Even though mung beans are considered carbs in the GDM diet for gestational diabetes, it was still a complex carb of sorts and I could eat a little more of it than just plan carbs of rice or pasta. I would make peanut chutney to go with it, so that took care of the protein add on for every meal with the GDM diet.
What do you eat the Spinach Pesarattu with?
You can use dips like various chutneys - coconut chutney, peanut chutney, tomato chutney etc or sambar. You can even top it with diced onions and grated carrots, when making the crepe to add some additional flavor and texture. You can even use it as a wrap and stuff with roasted veggies, hummus, cheese etc.
Does it need any special equipment to make these crepes / dosas?
You don't need anything special than what you may already have in your kitchen. A good quality blender like a Vitamix, Blendtec or even Ninja to make the batter and a regular non-stick skillet to make the pesarattu.
I hope you make this soon and I am sure you will love it. Make sure to tag me @cookingcurries on all social media, if you do make it and share it! XO!

📖 Recipe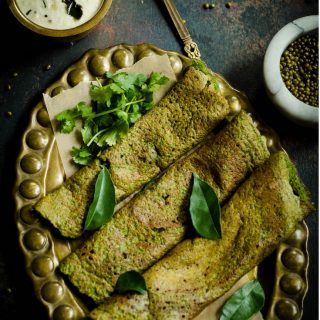 Spinach Pesarattu - Gluten Freen Mung Bean Spinach Crepe
Ingredients
2

cups

green moong dal

soaked in water for 4-5 hrs

1

inch

ginger

chopped

2-3

Thai green chillies / serrano

chopped

1

cup

cilantro

loosely packed

2

cups

baby spinach

loosely packed

salt

to taste
Don't forget to check out Step-by-step instructions with photos in the body of the post above
Instructions
Soak the moong dal for 4-5 hrs with enough water to keep it immersed. Rinse and drain.

Add this to a blender jar. Add the rest of the ingredients and blend to a smooth batter. Add maybe ¼ -½ cup of water, little by little as needed, while grinding.

Rest the batter for 10-15 mins or so

Heat a skillet. Take about ½ cup of the batter and spread it out on to the skillet like a crepe. Drizzle a little oil, if needed. Wait for it to cook - you will see it change color a little, maybe even crisp up a little and will look cooked through on top.

Using a wide spatula, flip this over to cook the other side too. It should all take about 3-4 mins over medium heat.
Nutrition
Calories:
1463
kcal
Carbohydrates:
264
g
Protein:
101
g
Fat:
5
g
Saturated Fat:
1
g
Sodium:
118
mg
Potassium:
5613
mg
Fiber:
69
g
Sugar:
28
g
Vitamin A:
7290
IU
Vitamin C:
46.4
mg
Calcium:
617
mg
Iron:
29.8
mg