Beetroot Kichadi, a Kerala dish, is a type of beetroot raita where cooked beets are mixed together with a tangy and spicy ground coconut and yogurt base.
Beetroot Kichadi, also known as Beetroot Pachadi, is a delicately sweet and tangy raita-like dish where cooked beets are mixed together with a tangy and spicy ground coconut and yogurt base.
This pink yogurty sauce thing always fascinated me when I was a child. I had had it only during weddings of mallus (slang for Malayalees, natives to the state of Kerala).
Being a TamBrahm (Tamil Brahmin, from the state of TamilNadu), this was not something made at home, even for sadyas and it always attracted me. Maybe it was the color, maybe it was something else, I don't know.
I did not even know that it was beetroot, till maybe when I started cooking. Ever since, this kichadi has been something very dear to me and I try to make it whenever I can.
What is beetroot kichadi ?
Kichadi is any type of savory raita like condiment made with yogurt and coconut ground together with chillies and cumin. Some add ginger to this as well.
Beetroot kichadi has beets in it, where as okra kichadi or vendakka kichadi will have crispy fried okra in it and bitter melon kichadi will have cooked bitter melon in it and so on. You get the idea now, right?
Again, as with most recipes, especially Indian recipes that have been around for hundreds of years, every family has their way of making these dishes. I have had kichadis with no coconut in it as well. This is my way of making kichadis - with coconut and yogurt.
Some call this kind of preparation, pachadi too. For me pachadi is something sweet and kichadi is something savory. That is the single definition I go by.
Whatever the semantics may be and whether it is accurate for the purists or not, this is a darn good recipe. So, go ahead and make it anyway.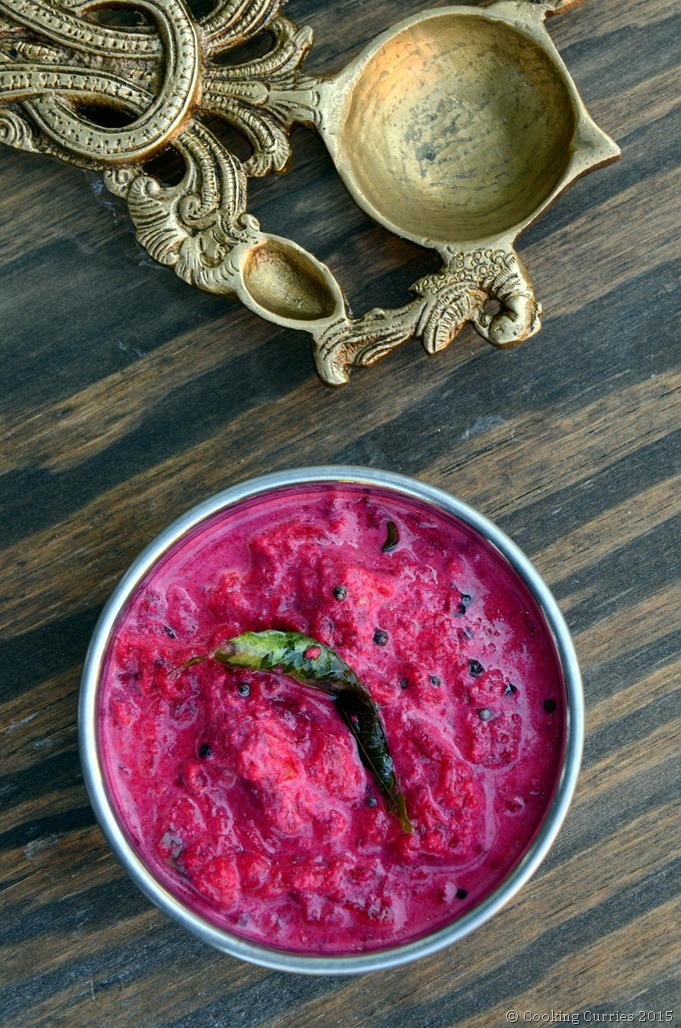 How to make Beetroot Kichadi?
Beetroot kichadi is made with grated beets, freshly grated coconut, yogurt, green chillies, cumin seeds and red pearl onions.
Grated beets are cooked in water with some salt. Fresh grated coconut is blended to a smooth paste with yogurt, red pearl onions, green chillies and cumin seeds.
This coconut yogurt mixture is added to the cooked beets.
As a finishing touch, a tempered seasoning of curry leaves and mustard seeds fried in coconut oil is poured over the cooked beet coconut mix.
Serving suggestions:
Beetroot kichadi is a vegetable side that is served with rice. It tastes best with Kerala rose matta rice, a fat rice that is slightly pink in color with earthy flavors. But you can use any kind of white or brown rice that is not too fragrant.
Kerala matta rice takes a long time to cook. My favorite way to cook matta rice is in the Instant Pot.
This is typically served in the Kerala style feast, sadya, along with dozens of other curries and vegetable sides. You can find my entire collection of Kerala sadya recipes and read more about it in the post - Kerala Sadya Recipes
📖 Recipe
Beetroot Kichadi ~ Beets in a Spiced Yogurt Coconut Sauce
Beetroot Kichadi, a Kerala dish, is a type of beetroot raita where cooked beets are mixed together with a tangy and spicy ground coconut and yogurt base.
Ingredients
2

medium

Beets

peeled and grated

2

cups

Water

enough to cook the beets

Salt

to taste
To grind to a paste
½

cup

Grated Coconut *

I use the freshly frozen ones

4

Pearl Onions

peeled

2

Thai Green Chillies

⅓

cup

Yogurt
Don't forget to check out Step-by-step instructions with photos in the body of the post above
Instructions
Cook the grated beets in water with salt added. Cook through till most of the water is absorbed.

Grind all the ingredients under "To Grind to a Paste" to a fine paste, adding the yogurt towards the end, to make sure the coconut grinds properly.

Add this to the beet mixture, mix well and let it cook for a couple of minutes under low heat. Do not keep it on high heat as the yogurt might curdle.

Heat the oil for tempering, add the mustard seeds, once they splutter, add the curry leaves and pour over the beet and coconut-yogurt mix.

Remove from heat.
Notes
* I use frozen grated coconut. This is fresh coconut that is grated and frozen and can be found in the freezer aisle of most Indian grocery stores.
I break out a big chunk from the packet while it is still frozen and place it in a microwave safe bowl. I then microwave it for 30 seconds to thaw and warm it a little. 
This makes sure that the oil in the coconut is not separated from the coconut itself, resulting in a much smoother grind.
Nutrition
Serving:
0.5
cup
Calories:
113
kcal
Carbohydrates:
11
g
Protein:
2
g
Fat:
7
g
Saturated Fat:
6
g
Cholesterol:
2
mg
Sodium:
108
mg
Potassium:
273
mg
Fiber:
4
g
Sugar:
6
g
Vitamin A:
83
IU
Vitamin C:
33
mg
Calcium:
40
mg
Iron:
1
mg