The Sadya is a feast, that is typical of the state of the Southern Indian state Kerala and is the single most awe inspiring vegetarian fare you can ever eat! Read along for a collection of almost 50 recipes for Kerala Sadya.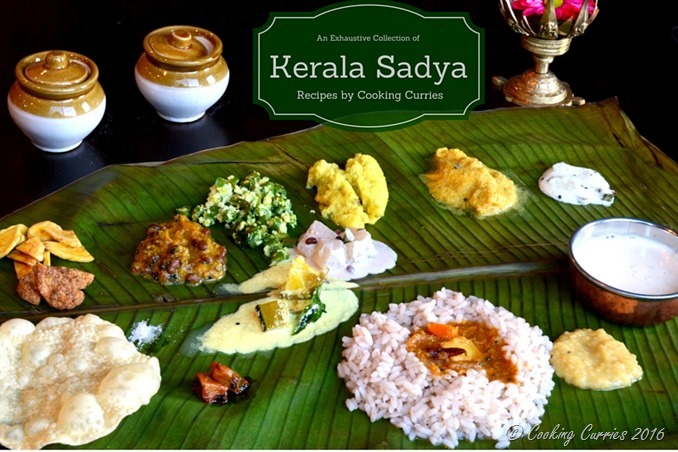 Sadya is a celebratory feast that is made for any occasion, be it a birthday, a wedding, festivals like Onam or Vishu, it is always a sadya for lunch.
Jump to:
How many items are there in Kerala Sadya?
There are typically about 16-20 dishes or more and there is a subtle variation in the dishes and the way they are made, depending on which part of Kerala you are eating the sadya at.
How do you serve a sadya?
This feast is served on banana leaves and you typically to sit on the floor to eat this feast. People do eat sadya on a banana leaf at a dining table but the fun of it is to sit on the floor cross legged and enjoy this wonderfully put together feast. Be assured that by the time you get done with the sadya you are most likely to have pins and needles on your legs!
The top half of the leaf is reserved for the vegetable sides where as the bottom half is for the rice and the different curries that go over the rice.
There is a certain order in which these various dishes are served on the banana leaf. Again this varies a little from region to region in Kerala.
Some folks start out with salt or pickle, others start out with payasam (a sweet pudding). In the end, it doesn't matter, as you are going to eat it all. Also, there is no order to eating them except for the various courses that are served. But you don't have to worry about that part, those who are serving will have to.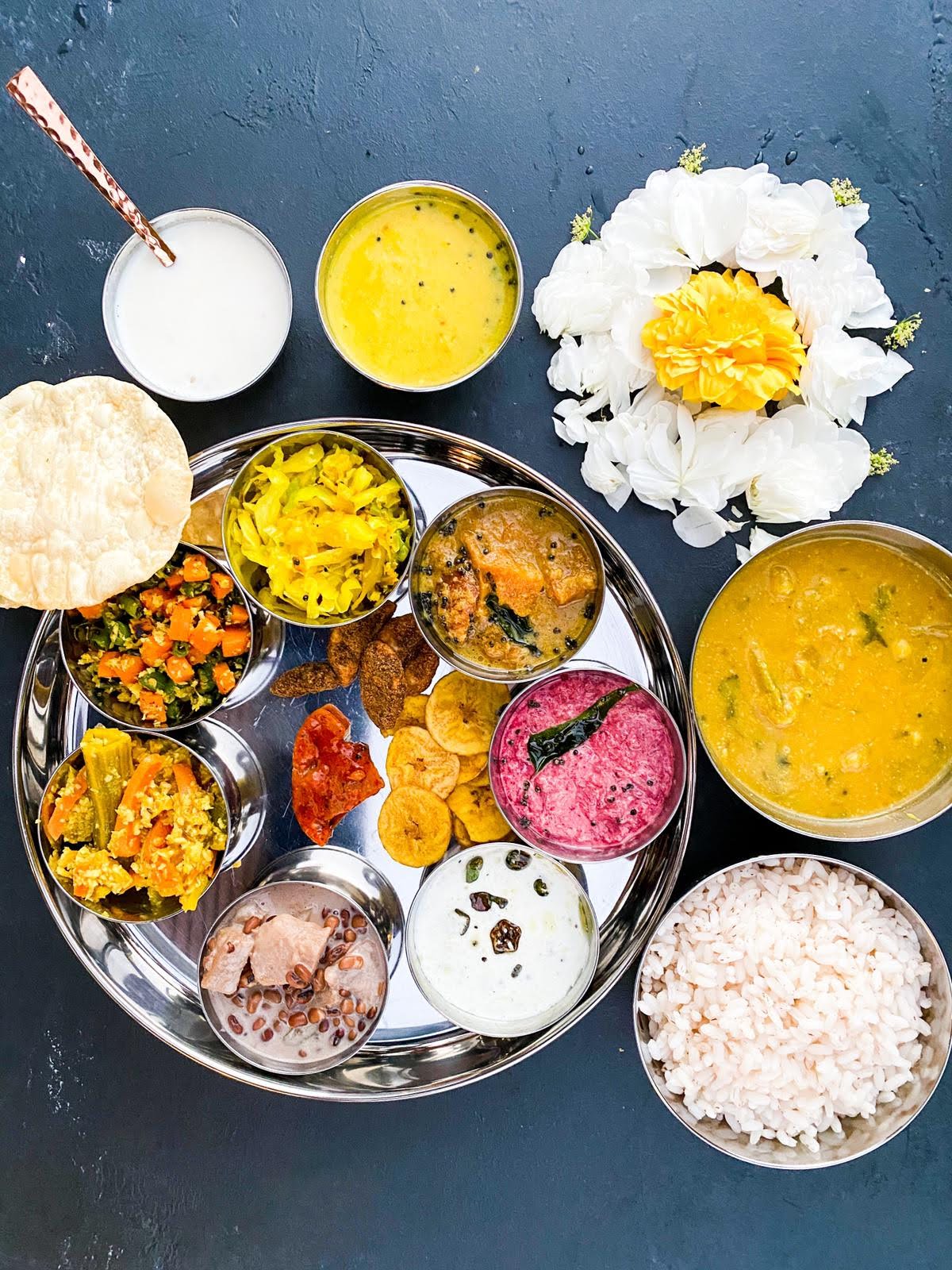 What are the components of a Kerala Sadya?
There are the pickles and condiments that range from Mango pickle, Lime / Lemon pickle to the more exotic Goose Berry pickle etc but the winner in this category is the hot, sweet and sour pickle called Inji Puli that is made with ginger, jaggery and tamarind – it is a half chutney – half pickle type of condiment.
The Indian style of pickles are almost always made with fiery red chillies, lots of oil and salt to balance out the heat and sometimes a little bit of fenugreek to help out with the effect of the heat on your stomach. There is always a science behind the various different ingredients that go in such dishes.
Pappadom, bananas, plantain chips and sweetened plantain chips (sarkkara varatti) are also served alongside the pickles.
Then there are the vegetable sides which are usually
Kichadi – a spicy and sour coconut based thick curry
Pachadi – a sweet and sour coconut based thick curry
Thorans – sautés of various vegetables or combination of vegetables with coconut,
Avial – a culinary genius invention, a mish mash of various different vegetables in a coconut yogurt sauce (believed to have been invented when there was only a lot of left over vegetables that was not enough to make anything substantial by just one vegetable alone),
Kalan – again a thicker sauce of coconut and yogurt base, that usually has raw plantain as the hero vegetable in it.
Olan – a coconut milk base curry that is on the sweeter side,
Erisseri – made with a variety of vegetables but the most common ones are with pumpkin or raw plantain and the beans in it gives it somewhat of a substance to it.
There are curries that are poured over the rice like sambar, pulisseri and rasam and then there is payasam, which is the dessert and final course of this meal.
Are there different courses in a Sadya?
There is no such concept of a course when it comes to sadya. But if at all, for lack of a better word, the courses in a sadya are defined by the saucier curries that are poured over the rice.
All courses will still have all those vegetable sides that were initially served and you can have multiple servings of that. Sambar is one of the more common of such curries that is served across South India, not just Kerala.
Then there are the Pulissery-ies, that are again a coconut-yogurt sauce base usually with a sweet fruit as the main ingredient in it – ripe mango, pineapple, ripe plantains etc. Rasam is a hot and sour soup of sorts, that, if anything needs to be skipped in this section, most prefer to skip this.
It, of course, ends with a course or sometimes multiple courses of dessert. Dessert is always payasam – how it becomes multiple courses is when there are many types of payasams made. By this time you are so done and done, but you still want to inhale all those deliciously sweet payasams and you do, shamelessly. After all, you don't make these banquet type meals everyday!
I hope you enjoy this delicious collection of Kerala Sadya recipes I have put together for you. I know, it might seem overwhelming, but trust me, this feast deserves this!
If you have the Instant Pot and are looking for Instant Pot recipes, here is a growing list of Instant Pot Kerala Sadya recipes.
Kerala Sadya Recipes
Pickles and Condiment Sides
Vegetable Sides
Rice
Usually, the Kerala variety of red rice called Matta Rice is what is served in a sadya. Any white rice can be served.
Ozhichu Koottan - Curries
Curries that are poured over the rice which roughly makes up for the different courses

Payasam
Dessert puddings made with milk and sugar or coconut milk and jaggery as base
Eventhough I would like to think that all dishes in a Kerala Sadya are delicious, I have a few favorites. My favorite Kerala Sadya recipes are Mambazha Pulissery, Vendakka Kichadi, Ethapazham Pachadi, Sambar, Avial and Pazham Pulissery. I dont discrimate between the payasams. I love them all!
So, what are your favorite Kerala Sadhya recipes?