If there is anything better than peanut butter and jelly sandwich is this Peanut Butter Jelly Smoothie with fresh strawberries and a little bit of strawberry jelly.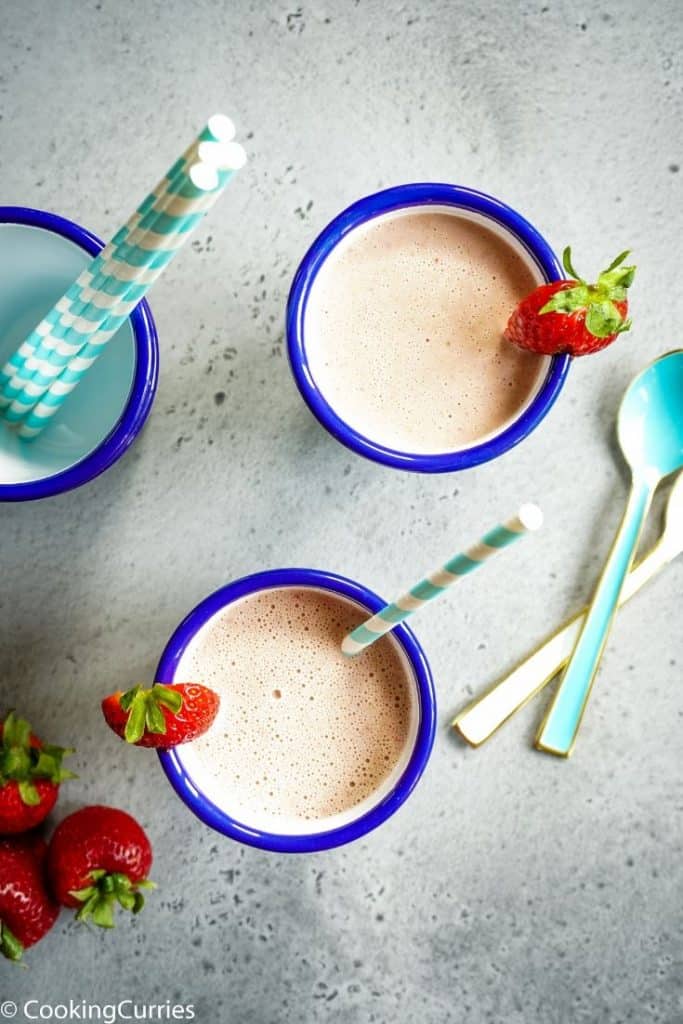 V and I are peanut butter fans here. I ate a ton of peanut butter when I was pregnant with him and I totally believe that it is the reason he loves it too.
PB and jelly or PB and Nutella sandwiches are a favorite here. And we always make our morning breakfast smoothie with PB, Banana, Chia and sometimes a little Nutella for a treat. One such day of making our morning smoothie, I found out that we ran out of Nutella, and V was upset. I wanted to do something before the situation escalated and got him excited about a PBJ smoothie instead. That is how this came into being and here I am sharing it with you.
How do you make a Peanut Butter Jelly Smoothie?
Its as simple as it sounds. Peanut Butter, fresh Strawberries, a little bit of Strawberry Jelly for that PBJ taste, banana for some body and almond milk as the liquid. Just blend it all together and you are good to go.
Can I use PB2 for this PBJ Smoothie?
Yes, absolutely. In fact, when I sometimes make it for myself, I add PB2 and a little bit of vanilla protein powder to make it a PBJ Protein smoothie.
Can this PBJ smoothie be made without banana?
Yes, you can. But I would recommend doing that when you are using protein powder too so there is a little body to the smoothie. But it is totally fine if you want to skip the banana. It will just be thinner smoothie.
What other flavor of jelly can I use for this Peanut Butter Jelly Smoothie?
Any flavor is fine. My recommendations would be strawberry, grape, cherry or any other berries. I personally would not like apricot or any such flavors with PB. But thats just me. Feel free to mix and match.
📖 Recipe
Peanut Butter Jelly Smoothie
Don't forget to check out Step-by-step instructions with photos in the body of the post above
Instructions
Add all the ingredients together in a blender and blend till smooth.

Pour it out in glasses and top with a fresh strawberry half.
Nutrition
Serving:
1
cup
Calories:
287
kcal
Carbohydrates:
28
g
Protein:
9
g
Fat:
17
g
Saturated Fat:
2
g
Sodium:
439
mg
Potassium:
463
mg
Fiber:
5
g
Sugar:
14
g
Vitamin A:
40
IU
Vitamin C:
26.9
mg
Calcium:
329
mg
Iron:
1
mg
We LOVE smoothies here. Here are some of our favorites: