Perfectly cooked, yet perfectly crunchy, the balance to making the perfect green beans that will win over your family, the picky eaters, your guests, anyone and everyone. Trust me, this is one recipe you need in your dinner menu arsenal.
It is so easy, yet so difficult to make the perfect green beans. Green beans are a great side to any holiday or other dinners. And it always helps to have the one recipe that comes out perfect every time you make it. And I have all the tips and tricks you need to make these Garlic Parmesan Baked Greens Beans.
There is no boiling, no blanching, no burnt garlic, just fresh green beans baked to perfection.
These garlic Parmesan baked beans are
Easy to make
Takes under 30 mins to cook
Baked to perfection
Perfectly crunchy
Great vegetarian side to your holiday table
Can be easily made vegan
I have been going on an on about how perfectly crunchy these garlic parmesan baked green beans are. That is because they are. And I absolutely hate soggy or over cooked, almost burnt green beans.
Want to know how to make them perfectly crunchy and cooked enough at the same time?
Its all about the timing. 15-18 mins is all it takes to cook regular green beans and if you are making their thinner French cousin, Haricot Verts, it only takes 12-15 mins to bake them.
The green beans should look green when you take them out of the oven and not brown or black (?) They don't have to change color to be cooked and is one of those vegetables that will lose their crispiness once they change color.
Another secret to making this green bean recipe is the garlic. However, I have seen many baked green beans and recipes where the garlic is almost burnt.
The 15 minutes or so that the green beans is in the oven is enough to burn the garlic and no one wants burnt garlic green beans, right? I have made a few of them myself.
If you put the garlic towards the end, it does not give it enough time to cook or incorporate its flavors to the green beans.
So, how do you make the garlicky green beans in the oven without burning the garlic while still getting all the good garlic flavor?
Shhh, the secret is to grate the garlic really fine and mix it in with the butter and olive oil and let it sit to infuse its flavors into the fat.
Next, brush the green beans with the garlic infused fat with a basting brush. Some of the garlic might get onto the green beans but that's ok. As long as most of the grated garlic stays out and most of the garlicky flavor from the fat gets on the green beans, that is fine. That is what we want.
How to make Garlic Parmesan Baked Green Beans
Its fairly simple but you have to keep in mind these three tips that makes this recipe fabulous
Baking time to get the perfect crunch
Garlic flavor without burning the garlic
Fresh grated parmesan
Pre heat the oven to 350F.
Trim the stem end of the green beans. Just trimming the stem end is enough, you don't have to trim both ends. But if you do want to, go ahead.
The stem end is the end that the green bean is attached to the plant with. This is what it looks like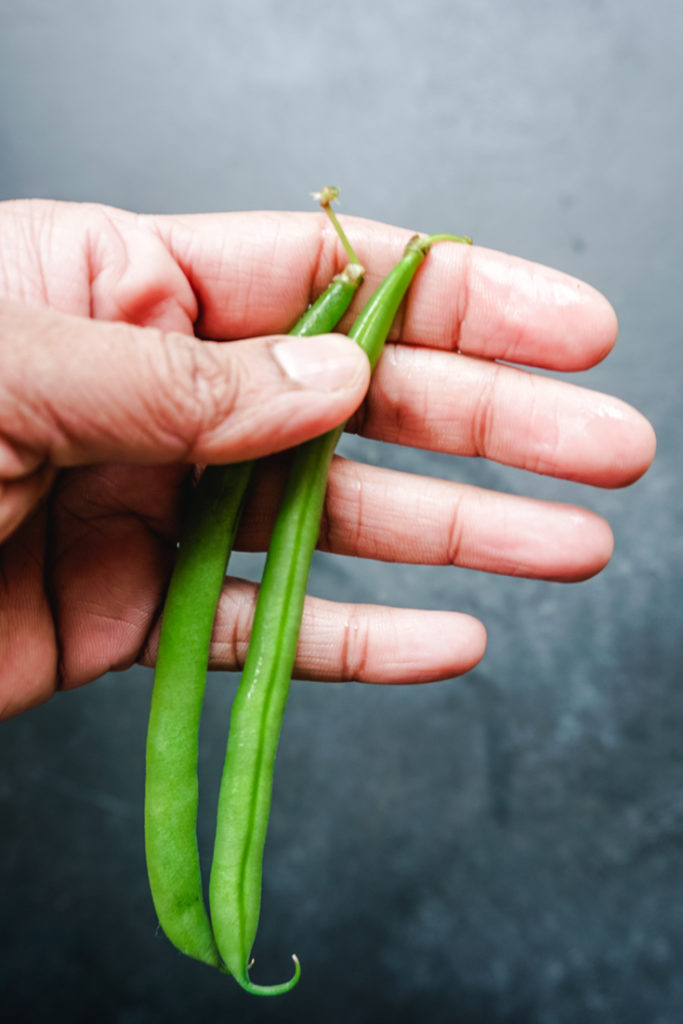 Grate the garlic finely and mix it with warm melted butter and olive oil.
Brush the grated garlic infused butter and olive oil on the green beans in a sheet pan.
Season with salt and pepper.
Bake for 15-18 mins.
Top with fresh grated parmesan.
If you are looking for more sides for your holiday table, here are some of our favorites
Follow Cooking Curries on Instagram | Facebook | Twitter | Pinterest for all of the latest updates and life stories that may not make it here
Don't forget to subscribe to Cooking Curries' Newsletter to automatically receive notifications of new posts and recipes.